There are a number of important factors to consider when choosing a rock-climbing belay device to be safe while climbing. Before you rush for the cheapest or most expensive belay device, think about your purchase and how it can keep you safe while climbing. I've used Black Diamond ATCs and other tubular devices for climbing as well as Figure 8s for rappelling with minimum complaints. However, after seeing someone fall 50 feet, I realized that assisted braking is no longer a luxury, it is a necessity. 
This post is pretty thorough with lots of information about assisted braking belay devices, but here's the short version of my recommendation: after considering multiple belay devices, I decided to go with the Petzl GRIGRI Belay Device (Link to Product from Backcountry) for all of my rock climbing adventures. This is the belay device that I use and I'm extremely happy with the value, safety, and ease of use that it provides.
I'm not trying to convince you to spend more money. I'm trying to make your climbing adventure better and safer. Not to mention the crazy effect that peace of mind provides while you are climbing.
Why Assisted Braking is Necessary on your Belay Device
Compared to ATCs and Figure 8s, safety features such as assisted braking keeps you safe if something were to happen to the belayer (like a rock falling on their head or a mountain goat pounces on them, or most likely, they stop paying attention for the single moment I fall, which propels them into the climbing wall head-first and they lose control of the rope), the climber will remain safe. The assisted braking function activates when a climber falls, usually by pinching the rope between two surfaces and prevents the rope from moving.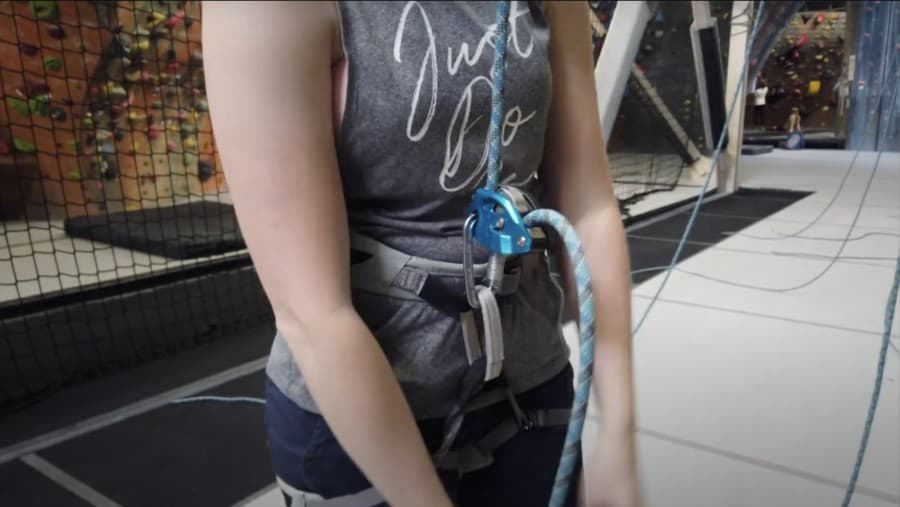 When people I am climbing with haven't used a Grigri or any other type of assisted braking belay device before, I like to show them how cool assisted braking is. Sometimes I have them climb up a couple of feet and then sit completely on the rope so their hands and feet are dangling. Then I let go of the rope with both hands and they don't move. It is incredible how much harder they can climb when they have peace of mind that no matter what, even if/when they fall, they will be ok.
In addition, some assisted braking devices have assisted descending functionality that makes it so you can easily control the speed of a climber's descent smoothly so you don't have to worry about letting someone down too fast, too rigidly or burn your belaying hands by rope tugging too much.
What to Look For in Assisted Braking Belay Devices
There are many assisted braking belay devices on the market with multiple features and functionalities, so it can be overwhelming to decide what you actually need or want in the device. Here are a few that I recommend focusing on when buying a new belay device:
Rope Size Compatibility: Most belay devices will fit your average-sized rope, but it is always a good idea to check and make sure.
Giving/Taking Slack: Some assisted braking devices to make it really difficult to give rope while you are lead belaying so either get a device that makes it really easy or has a minimal learning curve for making it easier.
Descending: Keep in mind that if you are climbing a lot or belaying a lot, you are going to get tired. By the time the climber needs to get down, you need a device that uses minimal effort to get the climber down easily and safely.
Repelling: If you are going to be repelling at all, then look at the ease of use and control that you can get while repelling from your belay device.
Guide Belaying (Belay From Above): If you are doing any kind of guide belaying, then make sure that your device is compatible with guide belaying. Some belay devices require additional gear or tools to make it work so make sure you are aware and take the cost of additional gear or tools into account when choosing your new belay device.
Top Belay Devices with Assisted Braking to Consider
Edelrid Mega Jul – The Mega Jul is a solid choice for belay device for lead climbing and can be used with two ropes. However, descending yourself or climbers from above a climb can be almost impossible without an additional small nose carabiner as a handhold for leverage so as long as you are ok with bringing additional gear then this device can work great for you.
Click-Up Plus – Click-Up Plus has an impressive brake design that "clicks" when assisted braking kicks in. Compared to the Click-Up, it is now easier to feed and take slack through the device. However, after the brake has engaged, many climbers find it difficult to un-engage so you may be stuck on the wall for a little while.
Petzl Grigri – Petzl makes the best climbing gear and the Grigri is their crowning belay device. It is multi-functional for all types of belaying and rappelling. It is super easy to use, one of the most popular belay devices on the market and has passed the test of time.
Mammut Smart – The Mammut Smart can be a great device for lead climbing since it is similar to using a tubular device with the benefit of assisted braking. However, if you are panicky or new to the device, you may find that it is can be difficult to get the right angle for giving slack easily. If you are ok with a learning curve, then this device may work great for you.
Wild Country Revo Belay Device – It is known for being simple and easy to use so there is a minimal learning curve for a single rope. The Revo automatically activates inertia reel to grip the rope and arrest the fall. There is also a panic-proof locking mechanism that makes it a good choice for advanced or beginner climbers.
CAMP USA Matik – If you are able to put top-dollar into your belay device, then the Matik may be for you. In addition to the assisted braking, it also has an anti-panic feature that re-engages assisted braking whenever climbing ropes move too quickly through the device. Also, the device runs parallel with the rope increasing contact and decreasing rope-ruining friction.
Wild Country Revo Belay Device – It is known for being simple and easy to use so there is a minimal learning curve for a single rope. The Revo automatically activates inertia reel to grip the rope and arrest the fall. There is also a panic-proof locking mechanism that makes it a good choice for advanced or beginner climbers.
Black Diamond ATC Pilot – The functionality is similar to a tubular ATC device for lead belaying with the added benefit of assisted braking. In comparison to the Mammot Smart, it has a plastic casing which makes it a warmer device for the cold season or a cooler device for the summer. Also, similar to the Mammot Smart, if you are panicky or new to the device, you may find that it is can be difficult to get into the right angle for giving slack easily. 
Why I Chose the Petzl GriGri Belay Device
See the price from Backcountry here.
See the price from REI here.
For me, the Petzl Grigri was the goldilocks option. It wasn't the most expensive and isn't the cheapest. They don't have every feature on the market, but it is significantly better than the cheapest assisted braking belay devices on the market. It is dummy proof so anyone can use it with a brief introduction and it is the smoothest device for descending and repelling. 
I've been climbing with the Grigri for a while now and here are the most obvious things that stand out to me about the GriGri belay device:
Minimum learning curve
Multi-functional
Great for lead climbing
Minimum Learning Curve
Before I purchased the Grigri, I made sure that someone would be able to teach me in person and test me with the device because I was concerned that YouTube videos wouldn't be enough. It was easy to find someone who agreed to teach me so I purchased the belay device and then had them walk me through how to use it. It was WAY easier to use than I initially thought it would be. Since I've been taught how to belay using the Grigri, I've taught three other people how to use it and they caught on really fast too. Even though it is super easy to use, I would still recommend having someone you know to walk you through the device and only use YouTube or a blog post to supplement learning.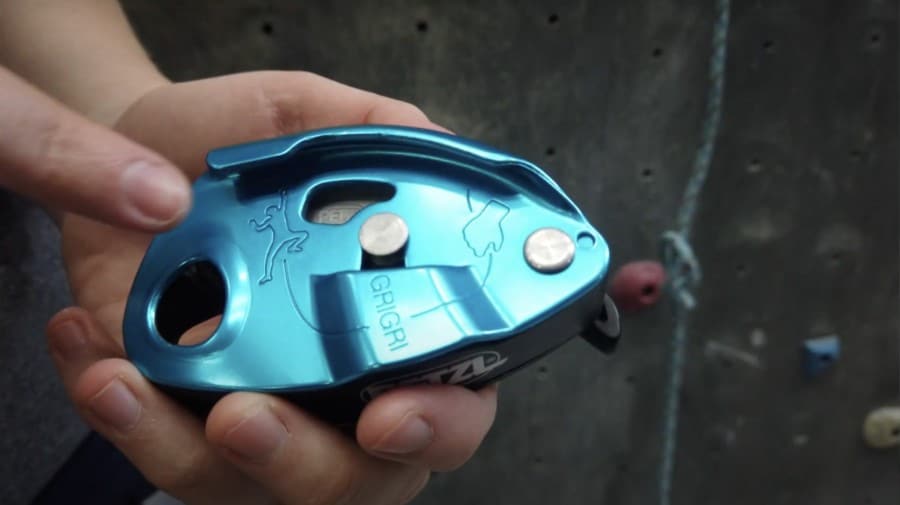 One of the reasons it is easy to learn is because there are images engraved into the device that shows you the direction the rope should be going in the device when you install it (the rope attached to anchors/climber, vs the rope that you are pulling through) so if you forget, you can always reference the images.
Another reason it is super easy to learn is that there is a nice handle that you can pull to let the climber down, or release to stop the rope from feeding through the device so it takes little skill or brains to use.
One thing that surprised me with how easy it was to learn how to use the Grigri, was that I had an additional barrier for learning. I am left-handed and had been using an ATC on the left side. The Grigri is only built for right-handed belaying so I had to essentially re-learn how to belay on my right side. It was super easy, though and I was quickly able to adjust and switch to my right hand.
Multi-Functional
Most belay devices have one function so you have to bring multiple devices to a climb if you are going to do multiple things. A nice thing about the Grigri, is that it is multi-functional. The grigri can be used to belay top-rope climbing, guide climbing (belaying from above) and more commonly, lead climbing. In addition, you can use it to self-repel and even self-belay. Self belaying is more advanced and you should always have a buddy, but if you do self-belay make sure that you have proper training beforehand. 
The climbing setters that work at a local gym I go to frequently self-belay using the Grigri. I've seen them clip themselves in, climb up, feed rope through, climb up higher, feed more rope through and then sit in the harness to hold themselves in place while they screw or bolt climbing holds in. Then they let themselves down using the grigri device. It was seamless.
Great for Lead Climbing/Belaying
One of the nicest things about the Grigri is how easy it makes lead belaying. The Grigri's assisted breaking relieves much stress for breaking so you can focus on providing slack to the climber. Even though the Grigris has assisted braking, you should still keep a hand on the brake rope at all times.
One challenge in lead belaying is paying out a lot of slack at one time. The most common technique for using a Grigri for paying out a lot of slack at one time is to hold the brake rope with your four fingers and place your thumb on the backside of the release lever. If you do this, however, make sure that you take your thumb off the lever if the climber falls so that the assisted break can kick in.
Top Pros of the Petzl Grigri
Popularity: There are a few other self-assisted brake products that are slightly less expensive or more expensive but you usually have to go online to purchase them. Because they are less popular, it would be harder to find someone who can show you how to use it. All these devices have videos online and written directions in the packaging, but nothing beats being able to talk to someone and feeling the rope and the device in your hand as you learn how to use it. Even if you know how to use a different self-assisted brake product, you will likely have to teach whoever is climbing with you how to use it as well, compared to a Grigri that is more commonly known.
Descending Functionality: The descending functionality of the Grigri has an amazing handle system that makes it the best descending device for smooth and controlled descends.
Multi-Functionality: The Grigri is easy it is for top-rope and lead belaying, as well as self-belaying for advanced climbers, making it multi-functional and great for most situations.
Easy to Learn to Use: The Grigri is simple to use and there are also images engraved on the device that you can use if you forget. In addition, there are lots of climbers that use them, so it is easy to find someone to help you learn how to use it.
Cons of the Petzl Grigri
Cost: Compared to tubular ATCs and Figure 8 devices, the Grigri is more expensive. There are also some assisted belay devices slightly less expensive, but as I mentioned earlier, they are usually harder to find and harder to use.
Bad Habits: There are some climbers that are too comfortable with the assisted brake functionality of the Grigri and start using bad habits such as releasing the brake hand from the brake rope or incorrectly providing slack with their brake hand completely on the Grigri. 
Conclusion
I've used multiple ATCs and Figure 8s in the past and did a lot of research to decide what belay device I was going to purchase. The one that I learned was the best, was also what my trusted climbing friends all suggested. A stranger even overheard one of my conversations and they told me "the Grigri will change your life." At the time I thought that would be an exaggeration, but truth be told, the stranger was right! The Grigri device changed my life.
If you are looking to increase the safety features of your belay device and want additional peace of mind while climbing, the Grigri is worth the investment. The Grigri has one of the best assisted-brake systems and compared to other assisted brake belay systems, you can smoothly and easily descend yourself, or whoever you are belaying. 
Once you get the belay device, the learning curve is easy and makes the transition to the Grigri simple. In addition, it is one of the most popular belay devices so you probably don't have to teach everyone you go climbing with how to use it.