A climber's shoes may be the most important tool that heavily affects the ability to boulder. Before you rush into getting the most expensive or prettiest climbing shoes on the shelf, think about the features you need and the comfort that you want.
After considering dozens of climbing shoes and testing many of them, I decided to buy Mad Rock Drone shoes for bouldering. For me, it is the perfect blend of quality and price.
It has a high-quality rubber sole that grips similar to high-end climbing shoes and an ideal toe angle for most bouldering needs. I've been super happy with them and recommend them to all of my climbing friends.
Why I Chose the Mad Rock Drone Climbing Shoes for Bouldering
Click here for pricing on Backcountry
For me, the Mad Rock Drone climbing shoes were the perfect balance between value and price for my bouldering adventures. The Mad Rock Drone isn't perfectly comparable to the technology and features that go into the highest-priced shoes such as the Scarpa Drago (priced at $189) but it does pack in a lot more tech and features than any other shoe in the same price range
Since I climb year-round and the season gets cold and snowy, I am in the gym just as often as I am outside and require shoes that are all-round performing for different types of rocks and for the indoor climbing holds.
I've had La Sportiva Solutions climbing shoes, which are probably the most popular climbing shoes at the competitive level but I returned them when they didn't fit my heel well and they made my feet ache. Any pain caused by your climbing shoes can get into your psychological space which makes trying difficult moves harder.
When I have the Mad Rock Drone shoes on, I am more comfortable taking risks and climbing harder because falling doesn't hurt as much.
A lot of shoes with this much rubber over the toe feel as clunky as wooden clogs. The Drone's rubber has a bit more stretch to conform to your foot's shape a little better so you can feel the the rock or hold beneath your toe.
The shape and rubber make it easy to stick your foot on a hold and depend on the shoe to grip it for you. In addition, unlike most downturn shoes, Mad Rock Drone has created a relatively comfortable aggressive shoe that can be worn for extended periods of time.
It comes in a low volume or high volume (narrow or wide feet) so it can fit your foot perfectly.
This is particularly special because most high-performance shoes hurt to wear because of the angle that it forces your foot into, but the flexible material of the Mad Rock Drone makes it comfortable without sacrificing performance. 
In addition, my climbs usually have some overhang areas but the majority of my bouldering problems don't require aggressive downturn shoes so moderate shoes work really well. If the majority of your bouldering is severe underhangs, then I highly recommend the La Sportiva Solutions. For everyone else, you can save a ton of money by getting a slightly less aggressive shoe that is great for all-round climbing.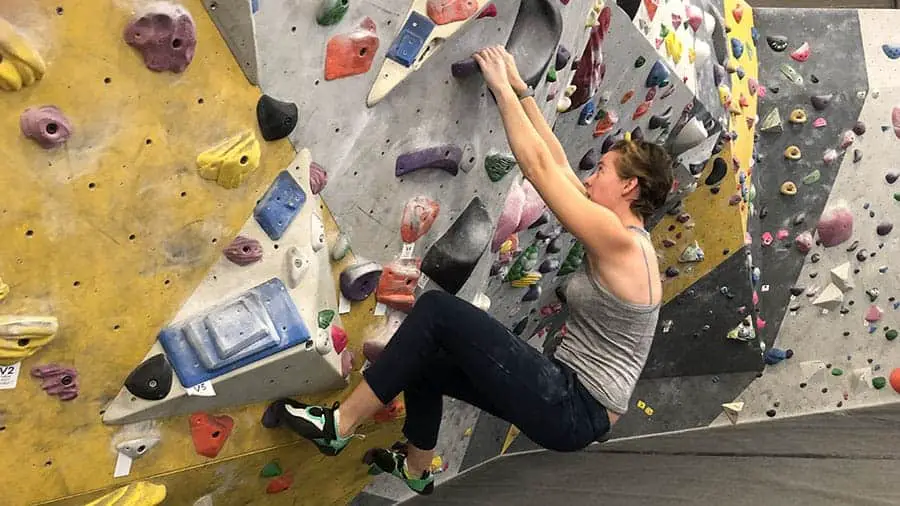 What to Look for In Climbing Shoes
Rubber Sole – Unfortunately, usually the pricetag shows you what type of rubber your climbing shoe has but the brand is sewn into the shoe also puts an additional cost into the shoe so it is important to look at the type of rubber and base your decision on the type of bouldering you are doing. Here are three of the most common rubber types:

Vibram® XS Grip2 works well in both hot and cold conditions and is commonly used on La Sportiva and Scarpa shoes so you can be sure that it is a quality grip
Trax XT is one of the highest-performing sticky rubbers available, provides an excellent balance of high friction and edging power on different rock types and across a wide range of temperatures
5.10 Stealth C-4 allows climbers to stick to barely-there edges, lock into smears on microscopic nubbins, and cruise up technical terrain with unparalleled confidence in their footwork.

Type of Material – Here are the three main things to consider when looking at the different types of material. 
How breathable is it? If your feet sweat a lot, then you may want a more breathable shoe.
Does it stretch? This is more of a concern when choosing your shoe size. A good rule of thumb is – if you get a stretchier material, then you need to buy a smaller sized shoe. 
Do you have sensitive skin? If you have sensitive skin, then the comfort of the seems and material may make it so that you have frequent rashes or discomfort form the material itself.
There are three main types of upper materials and it probably won't change your ability to climb, but it will change how comfortable you are. There are three main things to think about when looking at the material 
Unlined Leather 

Breathability: High
Stretchable: High – can stretch up to a full size
Skin Comfort: Low 

Lined leather

Breathability: Medium
Stretchable: Medium – can stretch 1/3 to 1/2 of a size
Skin Comfort: High 

Synthetic leather

Breathability: Low
Stretchable: Low/Doesn't Stretch
Skin Comfort: Medium 

Type of Closure – There are three main types of closure systems on climbing shoes: Slipper, Velcro and Lace-up. For bouldering, slipper and velcro are the most common because they are easy to take on and off between climbs. Some climbers don't like slipper shoes because they feel they are too flexible and are more likely to stretch. Whereas velcro can compensate for any stretch by velcroing the shoe tighter.
Toe Angle – The toe angle of your shoe is where the type of bouldering you do the most will come into play. For example, if you are frequently bouldering in overhangs, then a downturned toe may help you stay on the wall. However, downturned toes are less versatile and aren't as good for more up-right climbs. With that being the case, I usually recommend flat shoes because they are super versatile and can be used with any kind of bouldering.
Top Climbing Shoe Brands to Consider
La Sportiva: La Sportiva is a world-renowned brand and is used by many professional climbers. I highly recommend the La Sportiva Solution model shoe if you want a really good pair of bouldering shoes for overhang climbs and don't mind spending a bit of money.
Scarpa: Scarpa is also a leading brand for professional boulders. Some of their models even have padded heels for more comfort when heel hooking outdoors.
Mad Rock: Compared to more well-known climbing shoes, Mad Rock climbing shoes are known for having a great balance between performance and comfort. The Drone model, for example, has high quality features found in top-dollar shoes with amazing prices.
Butora: Butora is becoming a more well-known shoe brand as they have been producing award-winning shoes. They are most commonly known for their trad and sports climbing shoes.
Evolve: Evolve climbing shoes have some of the best all-round climbing shoes and are usually more affordable.
Unparallel: Unparallel is one of the few shoe brands manufactured in the United States.
5.10: 5.10 was bought out by Addidas in 2011. Many of their shoe models boast for being good indoor and outdoor climbing, making them a decent value for their relatively inexpensive price.
Climb X: Climb X make great climbing shoes with a reasonable price tag. Their shoes are also made with a special ant-microbial hemp sole that minimizes oder.
Black Diamond: Black Diamond has a couple of shoes such as the Momentum model that is a really decent shoe for just under $100 and is a solid choice for beginner climbers. Black Diamond is a super common brand in climbing, but compared to some other brands, the majority of their research and resources go into developing other products such as carabiners.
How Should Your Shoes Fit
An old time myth suggests that climbing shoes need to be as tight as you can fit your feet in, no matter how much pain it causes. The truth is that cramming your toes into a smaller size may actually cause long-term damage and doesn't drastically improve your climbing ability. Ideally, your shoes are just a little smaller than your feet so that your toes are slightly curled and there isn't any room for your toes to move.
Maintaining and Getting The Most Out of Your Bouldering Shoes
To make your shoes last as long as possible, here are a couple of tips that can help:
Part of your maintenance on your shoes starts before you buy them. Shop for your climbing shoes in the afternoon while your feet are swollen from a long day so that when you are climbing and your feet swell, your shoes still fit well.
Only wear your climbing shoes while you are climbing and try to wear either approach shoes or tennis shoes when walking to and from the climb
Store your shoes in room temperature. If you store your shoes in your car, take care that it isn't too hot. Heat can ruin the rubber on your shoes by drying, cracking or even melting the rubber.