I got a free rope bag when I bought my first climbing rope years ago and though it keeps my rope clean and has straps like a backpack, it is far from something I would recommend. Because of this, I decided it was time to upgrade and get a new rope bag.
There are hundreds of "best rope bags in 2020" articles online, but all of them seemed to be focused on pushing you to purchase the most expensive bag out there so they can get a nice commission instead of recommending the bag that has the most bang for your buck.
So I decided to do some research and learn what bag has the most features and best reviews for a decent price.
What I found is that the Petzl Kliff Rope Bag (Link to product on Backcountry) has great features at a great price. It has padded shoulder straps, chest strap space to hold all your gear so you don't have to carry more than one bag, it's lightweight and is water-resistant, which is good for the rain and makes the material easy to clean when you get mud on it.
When looking for the perfect rope bag, I went through more than 40 products, read thousands of reviews and watched hours of videos to find the right one. It took over 9 hours of work but I finally figured out what one fits my needs and was the best price.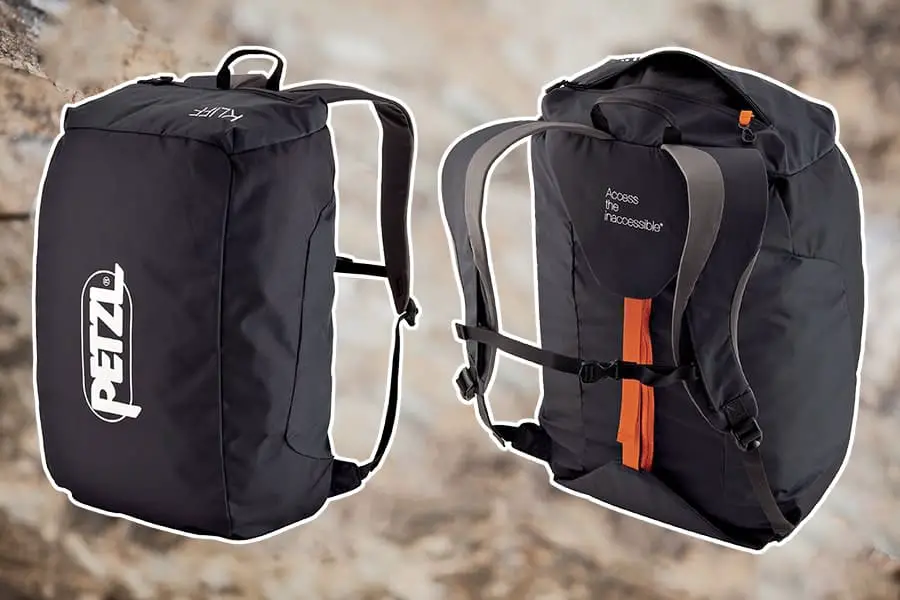 Why I Picked The Petzl Kliff Rope Bag
It turns out that a lot of rope bags are made with the intention of either just sticking it into another backpack or for short 5-10 minute walks and not so much a hike to the crag. Since I intend on climbing in the mountains, I know that I will be hiking at least a mile each time I go climbing so it was important for me to find one that has features to make that process as easy and comfortable as possible without getting too expensive.
Carrying Functionality – Backpack Straps
This is probably the most important feature to consider when looking for a rope bag. 
Most rope bags are made with a sling style carrying system, which is great for going from your car into a gym. However, it isn't ideal for hiking any distance as it can be heavy on one shoulder, put weight on one leg or hip and/or is in the way of your arms while you walk.
Most climbers that want to add a rope bag to their arsenal, intend to hike with their rope to crags a mile or more away from their car. If that is the case for you, then consider getting a rope bag that has backpack straps will be important.
The backpack straps will help you distribute the weight on both shoulders without getting in the way of your legs or arms while hiking.
Once I realized that I needed a rope bag with a backpack carrying system for hiking, I was able to narrow down my search to less than 20 products.
Padded Shoulder Straps And A Chest Strap
For a while, I thought the best bang for my buck would be the DMM Classic because of the features and price but when I read the reviews (I read over 80 reviews on that bag), over 30 said that they really wished it had a chest or waist strap.
I remembered carrying my rope and gear up the mountain a couple of weeks ago and immediately thought of how heavy my rope felt on my shoulders. The bag I was using had nylon straps (a common feature for cheaper bags) so there wasn't any padding and there wasn't any added comfort to my shoulders when I was hiking.
When I first started looking for the best rope bag to replace my basic rope bag, I thought that padded shoulder straps would be enough to make the heavy rope feel comfortable. But after reading the reviews on the DMM Classic and the Petzl Kliff, I realized how important a chest strap would be.
The chest strap adds another comfort feature by distributing the weight to be more on your core than just on your shoulders alone. It is common with climbing backpacks (starting at  $150) but less common in rope bags so it was a huge deciding factor when I decided to go with the Petzl Kliff.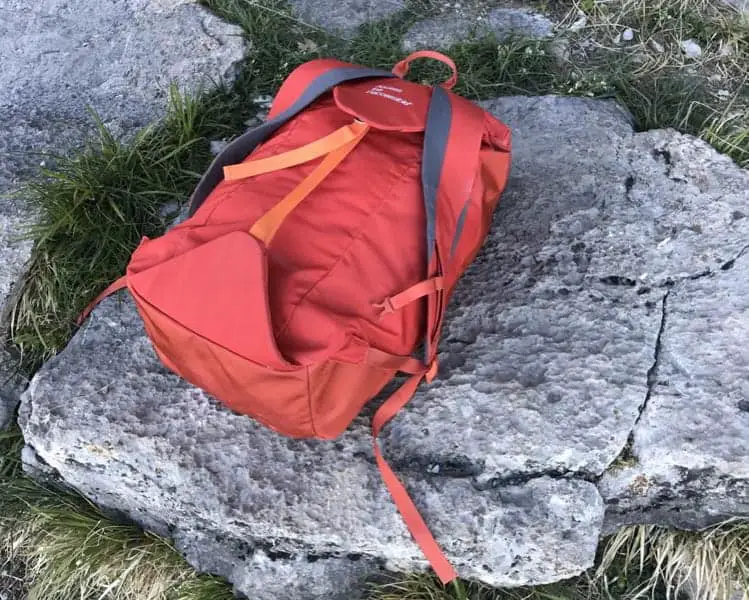 Closure System – Zipper and Strap
The closure system dictates how your gear can be accessed. Some bags are long buckets systems with a drawstring at the top, some systems are zippers or even just a tarp wrapped around with buckles to hold it together.
In the case of the Kliff rope bag, the closure system is a zipper on the backside of the bag (same side as the shoulder straps) that is accessed after releasing a strap. From someone that doesn't know much about the elements involved with reaching the crag, it may just seem like an anti-theft system. However, it also minimizes the possibility of the zipper getting caught on a tree branch or rain getting through the zipper line. 
The closure system not only dictates how everything comes together and stays inside while you are hiking, it also dictates how you access and pack the bag.
My favorite thing about this bag is that after you reach the crag, you can simply lay the bag on its face, undo the hook and unzip the bag to access your rope and climbing gear. This makes it super fast to start climbing and easy to pack up.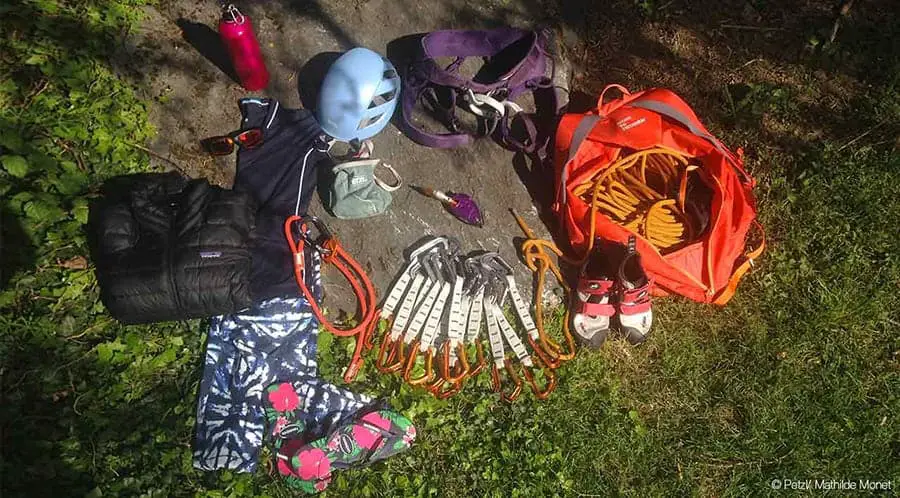 Space – 36 Liters
The amount of space your bag has will indicate whether or not you can fit your rope in the bag with or without more gear. Most rope can fit in a 20-25 liter bag. 
If you want the rope bag to also hold your harness and climbing shoes, you should consider either getting a bag with more space (30+ liters) or make sure it has loops or places that you can attach your gear to.
I didn't like the idea of my gear just swinging around on gear loops, so I wanted to make sure that everything could fit inside the bag for storage while I wasn't climbing.
I knew that I needed at least 25 liters for my rope and since I wanted to fit climbing shoes, chalk bag and a harness in it too, I could probably get away with 30 liters if I was careful with my packing.
This Kliff bag is 36 liters so it's the perfect size for carrying your rope, all your climbing gear, your climbing partners gear (which happens to be my wife), plus it can probably fit a few snacks. 
I didn't consider storage space as a necessity for the bag, but I'm super glad it does have that space so I can stay at the wall even longer and maybe past lunch or dinner.
Weight – 1 lb 10.5 oz
Depending on how far you have to hike with this bag, the weight can make a big difference. Plus, no-one wants to carry more weight than they already have to. Other bags can way up-to 3 or 4 pounds so it was important to find a bag that is as light as possible while still being comfortable.
The Kliff rope bag is less than 2 pounds so it is competitive with most other rope bags that have cushioned shoulder straps.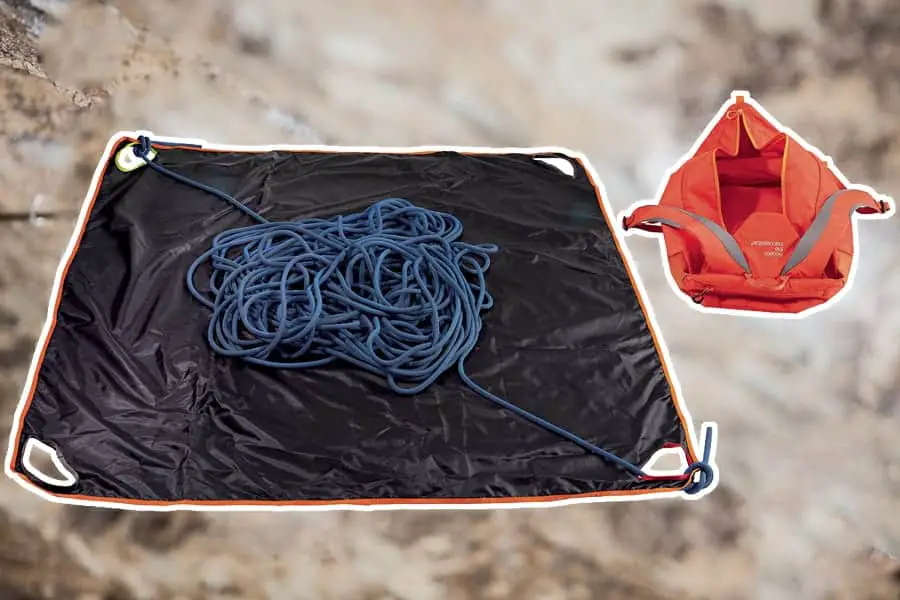 Tarp Size – 55 x 55in
Keeping your gear clean can be a great way to increase the life span of your gear. The tarp is a great tool to keep your rope and gear clean while at the crag. This is especially true if you climb where there is a lot of dirt or sand.
Most rope, if your belayer is careful, can stay on any size tarp but the bigger the tarp is, the easier it is to keep on the tarp. Plus, if your tarp is big enough, you can usually use it to put on your shoes so that they don't get dirt on them before you start your send. Making a bigger tarp more desirable.
The tarp inside the Petzl Kliff rope bag is larger than most other rope bags at 55 x 55 inches. The tarp has handles on all four corners so you can move the tarp and rope easily without repacking it. This is perfect for if you are moving over a few feet to start another route at the same cliff-side and don't plan on moving more than a few feet.
In addition, the tarp has built-in handles colored red and green so you know what end of the rope to use. This prevents you from accidental tying into the end of the rope that is at the bottom of the rope pile. 
When it comes to getting the best features for the best price, the price is important. You can use a $1 IKEA shopping bag as a rope bag if all you care about is the price. But if you want something that will be comfortable to carry up a mountain, consider getting an actual rope bag. 
Here is a general breakdown and what you can usually get at different price points:
$15 can get you a basic bag that comes with a tarp and basic nylon straps
$40 can get you a 25-liter bag with a tarp and padded shoulder straps
$50 can get you a 30-liter bag with a tarp and padded shoulder straps and extra pockets
$60  can get you a 35-liter bag with a tarp, padded shoulder straps, pockets and (in the case of the Kliff bag you also get a a chest strap)
$70 can get you a 35-liter bag with a tarp, padded shoulder strap, pockets and other brand-specific features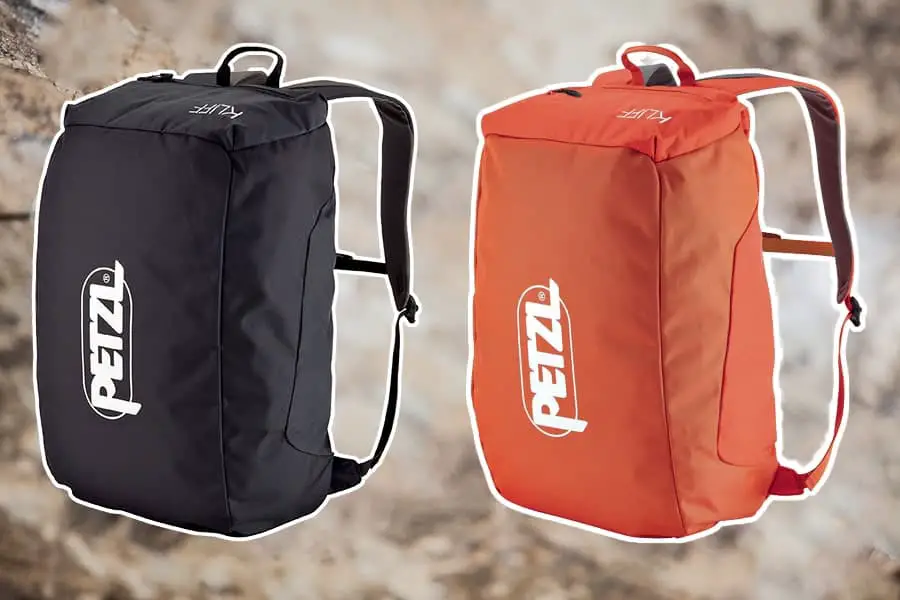 Aesthetic – Two Color Options
This is definitely one of those features that don't matter to everyone but if you are choosing between two bags that are within $5-$10, you can use your personal opinion on how something looks to help you decide.
For me, the overall look of the Kliff bag was one of the reasons that I decided to click on the product and start looking into it in the first place. That was before I started narrowing down everything based on the features. 
I like how sleek the bag looks and how it comes in two colors where the Petzl logo stands out strongly.
Other Cool Features
Every bag has some cool feature that makes it stand out compared to other features. 
For example, the Edelrid Drone II Rope Bag has a safety checklist printed on the tarp to help beginner climbers remember what to do before they start the send.
The Mammut Magic Rope Bag can be turned into a pad for sitting on if you undo the drawstrings.
Here are some of the Petzl Kliff rope bag.
The bag has a zipper at the top of the bag that makes it easy for you to access your phone and keys without accessing the rope or gear.
It has a clip so that you can clip in your keys (inside the bag) so they don't get lost under other things.
The material of the bag is super durable and easy to clean with a wet washcloth or rag.
The tarp is removable so you can throw that in the washer if needed.
Cons
My only concern about this rope bag is that your gear such as your shoes, harness and carabineers are pressed up against your back when you are hiking to the crag if you pack it how it is intended, which can be really uncomfortable. 
If you want to keep the tarp attached to the bag, you have to load the rope first and then you place the gear on top of the rope, thus, making the gear what is pressed against your back
To get around this, you can detach the tarp from the bag and just put the rope/tarp on top of your climbing gear instead of how it was intended to be packed.
For a moment, this con made me consider the DMM Classic as the better option. I was nervous about how you had to disconnect the tarp and put your gear under the rope for it to be the most comfortable on your back. But it didn't take long for me to realize that the strap across the chest is going to save me a lot of back pain so putting the rope in last didn't seem like that big of a deal anymore.
This adjustment is worth it compared to the alternative rope bags since it is easy to do and you still get all of the benefits listed above.
Top Alternatives:
Whether you have different needs for your bag, or you just want to do a quick comparison to other rope bags, here are the top alternatives that I found. Each of them still has comfortable features and are decently priced.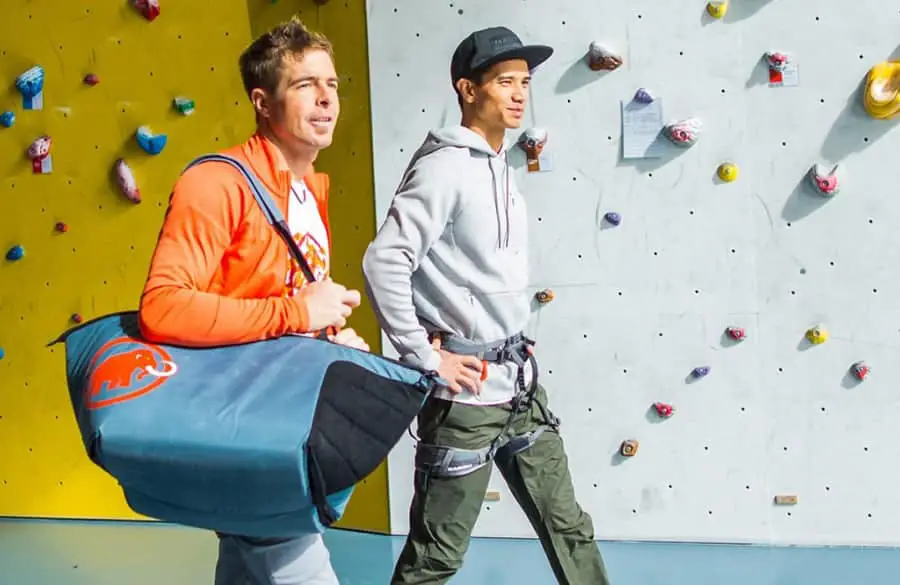 Mammut Magic Rope Bag
Price on Backcountry here.
If this bag had a backpack styled carrying system, I'd probably have chosen this as my recommended rope bag. As a free-standing rope bag, the Magic protects your rope from dirt and dust while you climb, but when it comes time for a break, pull the drawstring and the bag flattens into a mat that you can sit on for relaxing (so cool!). 
The bag has internal rack-organizing straps and a secure zipper and drawstring closure so that you're not losing carabiners on your hike back to the car.
Tarp Dimensions: NA
Claimed Weight: 1lb 5.2oz
Closure: Zipper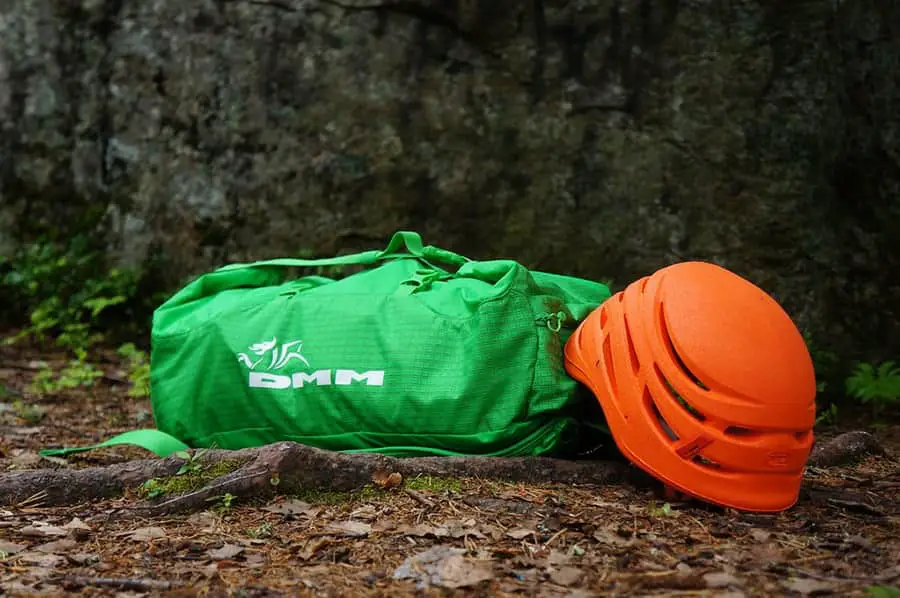 DMM Classic Rope Bag
See price from Amazon here.
This bag is has a slightly smaller capacity and has a smaller tarp than the Petzl Kliff Rope Bag, but it should still be able to store one 80-meter rope as well as draws, harness, and shoes, or you can fit two 60-meter half ropes and more gear with careful packing. 
The biggest reason that this wasn't my first choice when it comes to rope bags is that it doesn't have a waist or chest strap. Even just a chest strap can make a big difference when it comes to how comfortable it is to carry a heavy rope up to the crag. 
My favorite thing about this pack is that you can use the closure straps as gear loops if you absolutely need to carry additional gear. Plus, this backpack converts into a messenger bag by removing one of the shoulder straps and attaching it to the front. 
Size: 31 Liters
Tarp Dimension: 43 x 51 
Claimed Weight: 1 lb 6 oz
Closure: Buckle
---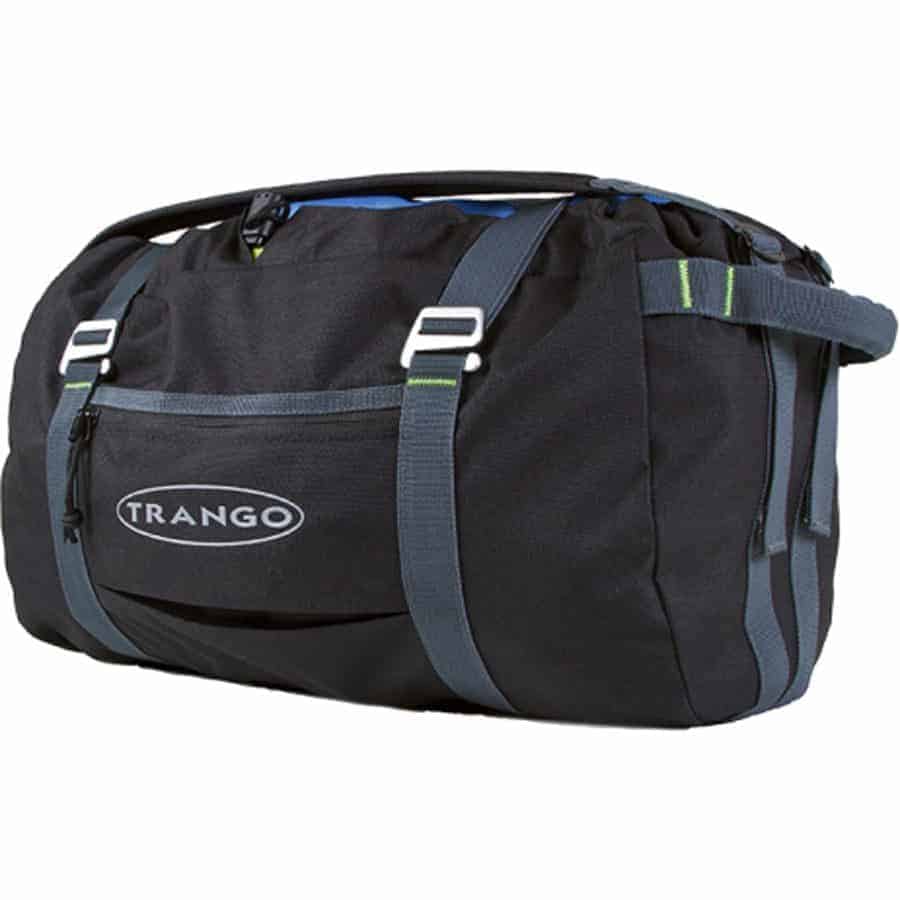 Trango Antidote 25L Rope Bag
See the price from Backcountry here.
This is a basic rope bag (and the price shows that) but it has a big tarp and enough loops for any gear that doesn't fit in the small pockets. It does have padded shoulder straps, but since it doesn't have a waist-belt or chest strap, the weight of your gear may feel heavier on your shoulders than with other rope bags.
Size: 25 Liters
Tarp Dimension: 48 x  60inch
Claimed Weight: 1 lb 3.4 oz
Closure: 2 metal buckles
---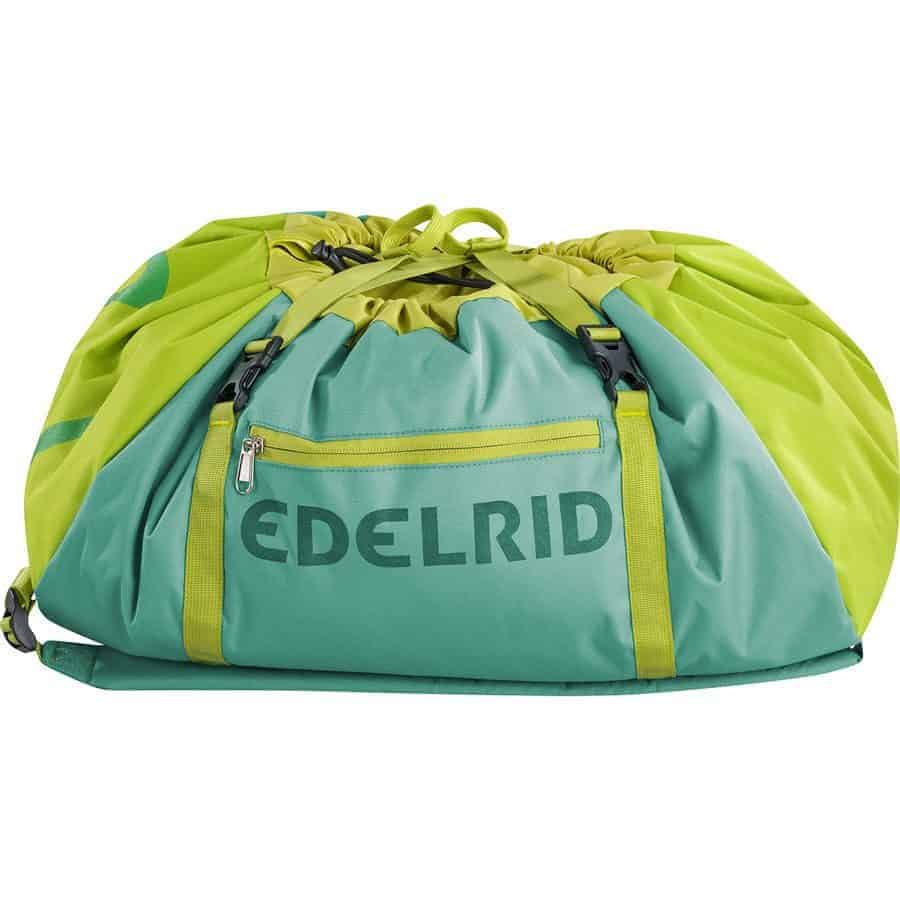 Edelrid Drone II Rope Bag
See price from Backcountry here.
I hesitated to include this in my top alternatives because it has the same features as the $37 Trango Antidote bag (see above). However, it does have a rope tarp list of safety tips that you can look at before you "belay on," which seems like a good feature for beginners. Plus, the colors are cute and will make you stand out among other climbers (in a good way). 
Size: 31 Liters
Claimed Weight: 1lb 15.3oz
Closure: Drawcord, buckles