Climbing is dependent on the environment and the weather, which is why so many are eco-considerate. If you're looking for something for yourself or something for a climbing friend, then consider getting an eco-friendly gift. This gift guide is here to help – eco-friendly gifts that climbers would love.
TOP 3 GIFTS
If you aren't sure what to get for your special climber someone, then sticking to these top 3 gifts is a great star. Plus, even if you don't know their size or what gear they already have, these products are perfect. Even if they already have similar items to the ones listed below, they are something that a climber can always have more of.
Edelrid Boa Eco Climbing Rope – 9.8mm
Climbing rope is the most important safety gear that a climber has. It's also one of those things that you should purchase brand new as you don't know what kind of damage it has at the core if bought used.
Because of this, many climbers recycle their old rope into rugs and bags. But what if they want to be environmentally considerate when buying a new rope? The Edelrid Boa Eco is a great solution.
The Edelrid Boa Eco is a robust, all-around rope that's made of high-quality yarns leftover from production, giving it a unique look bu6t the same handling and strength as other Edelrid ropes.
Thermo Shield treatment employs a heat process to stabilize individual yarns, ensuring the rope stays supple throughout its working lifetime. Bluesign® approved product uses on average 62% less CO2, 89% less water, 63% less energy consumption and 63% fewer chemicals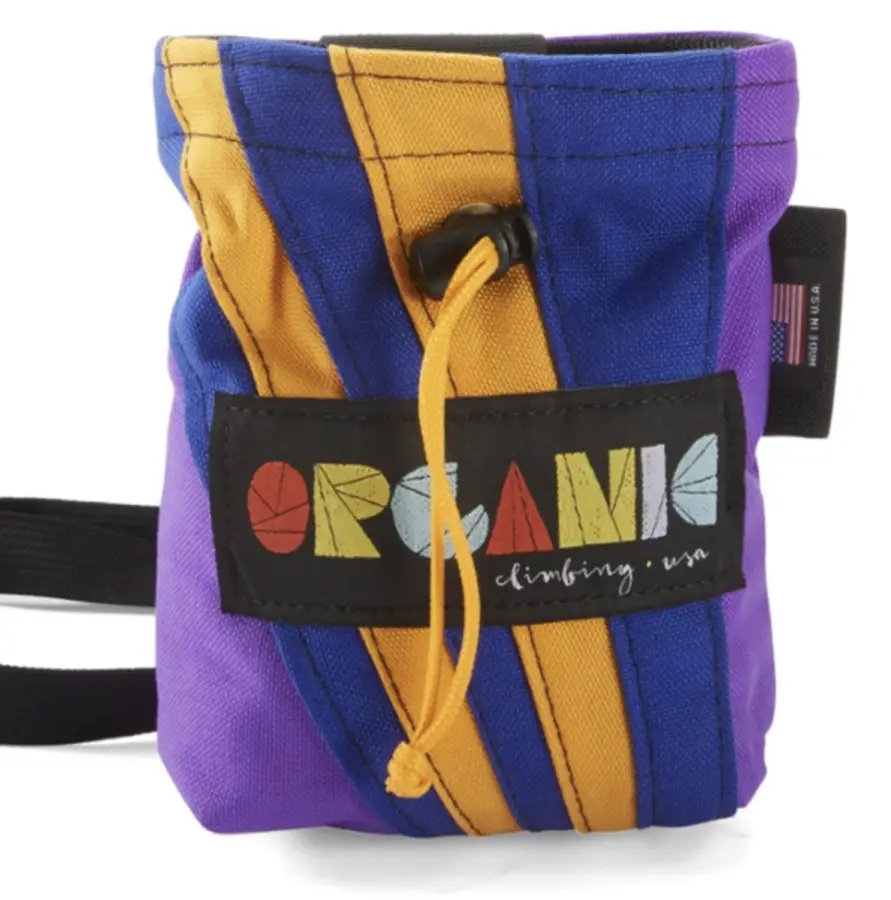 ORGANIC Climbing Chalk Bag
Chalk is the secret sauce to many climber's success (eco-friendly chalk listed below) and the thing that ensures they have chalk when they need it is the chalk bag.
Even if they already have a chalk bag – replacing it with one that is more eco-considerate is a great example they can set for other climbers and it can make them feel good about the bag around their waste.
Handmade in the USA, this one-of-a-kind chalk bag from ORGANIC Climbing is created by upcycling cutting scrap material. No two chalk bags are alike.
So iLL Sloper Brush 3.0 Eco
Built-up chalk on climbing holds makes it difficult to grip the holds – that's where climbing chalk brushes come in handy. This brush is not only eco-friendly, it's also multi-purpose. Most brushes only have a handle and bristles so it is only useful for one job – brushing holds. This brush has a sandpaper backing so it's multi-puropse.
Sanding the fingertips and callouses is how climbers keep their skin healthy and prevent torn skin that gets caught on holds.
Made with premium boar hair bristles and recycled plastic for the handle, the generously sized So iLL Sloper Brush 3.0 Eco gets holds clean. Plus, its sandpaper backing is great for callous care.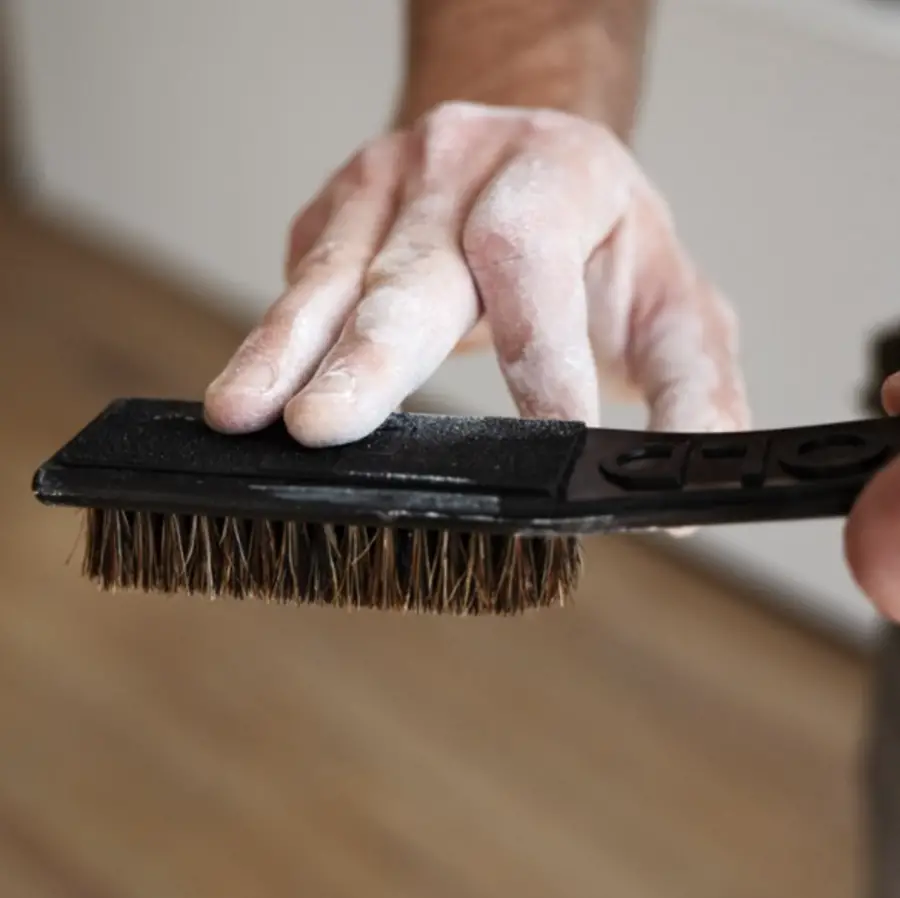 GIFTS UNDER $50
ECO GOLD CHALK – HONNOLD EDITION
One of the most environmentally damaging products that climbers use is chalk. Unfortunately, it's also one of the most important tools climbers use to hold onto thin edges. It helps by drying out your hand and minimizing sweat without creating a bi-product that most other products create when absorbing sweat.
Some brands such as Black Diamond, have taken action with the creation of some of their products such as this chalk to be more environmentally considerate. This chalk is also in partnership with one of the world's most famous climbers who also has a foundation to bring responsible energy to people around the world, Alex Honold.
Made from pure magnesium carbonate, which is the byproduct of the desalination process, as opposed to being mined from the earth like typical climbing chalk, ECO Gold is purer and eco-friendlier than other chalk products on the market.
In other words, ECO Gold is as easy on the environment as it is on your hands. Plus, thanks to its pure form, this chalk is extra absorbent, offering superior drying power and effectively enhancing your grip. A percentage of sales for every bag sold goes to the Honnold Foundation, which supports solar energy for a more equitable world.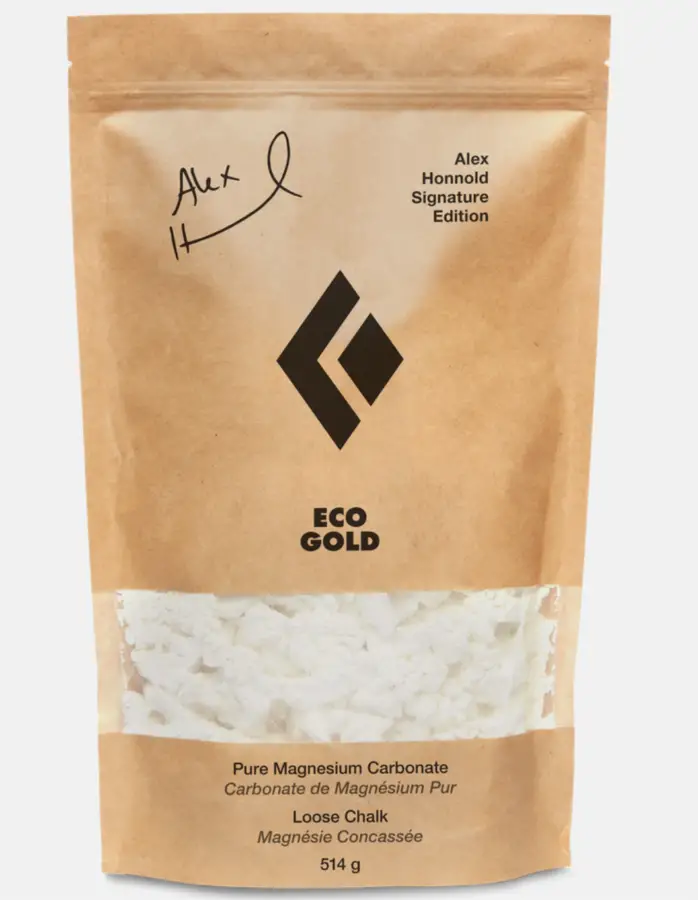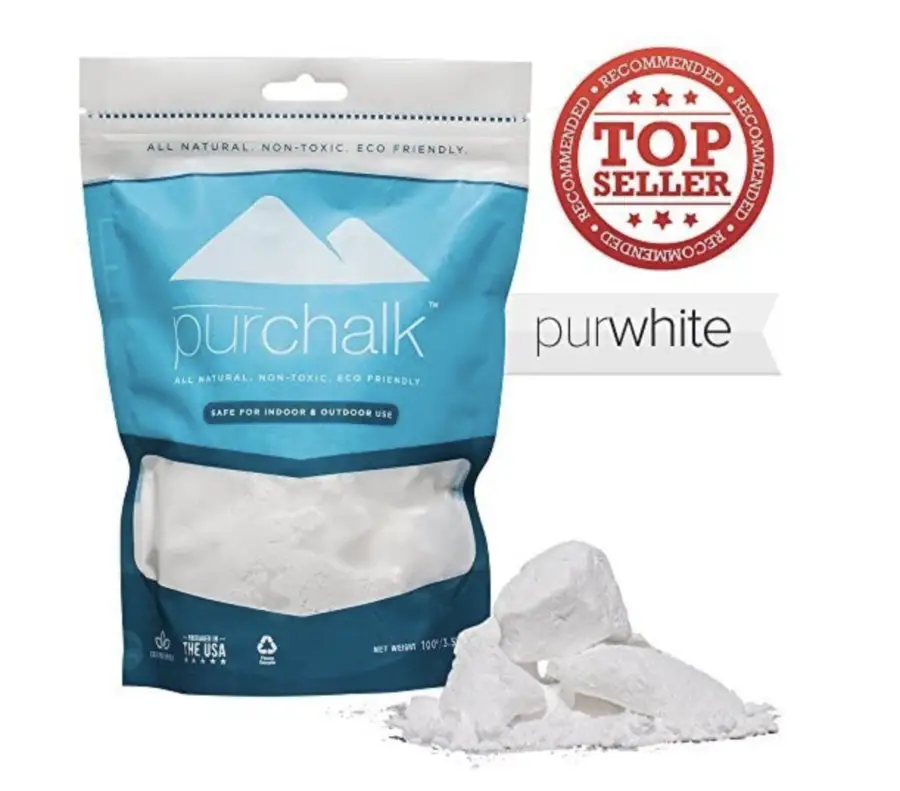 Pur Chalk – Eco-Friendly Chalk
Since chalk is so damaging to the environment, typically, it has been difficult for climbers to balance between being environmentally considerate and successful climbers. Fortunately, some brands have taken steps to make the chalk as environmentally friendly and sustainable as possible.
ECO-FRIENDLY, BIODEGRADABLE & SUSTAINABLE – Made from 100% Pure Magnesium Carbonate with no fillers or drying agents for maximum sweat absorption. Pur Chalk is packaged in a re-usable, re-sealable, and recyclable bag for your convenience.
Arc'teryx Large Ion Chalk Bag
A chalk bag is one of the most important things a climber has with them at the crag. This chalk bag is easy to attach to your waist and has the space for chalk and your hand while on the route. Plus, it's Bluedesign* approved so it is primarily made with recycled material and eco-considerate.
Fumbling to reach into our chalk bag to regain friction can waste precious energy that we need to get through the crux, so we strap on the Large Ion Chalk Bag for no-fuss access. The larger volume and stiff brim make chalking up quick and easy, so we don't get slowed down when pulling into the redpoint.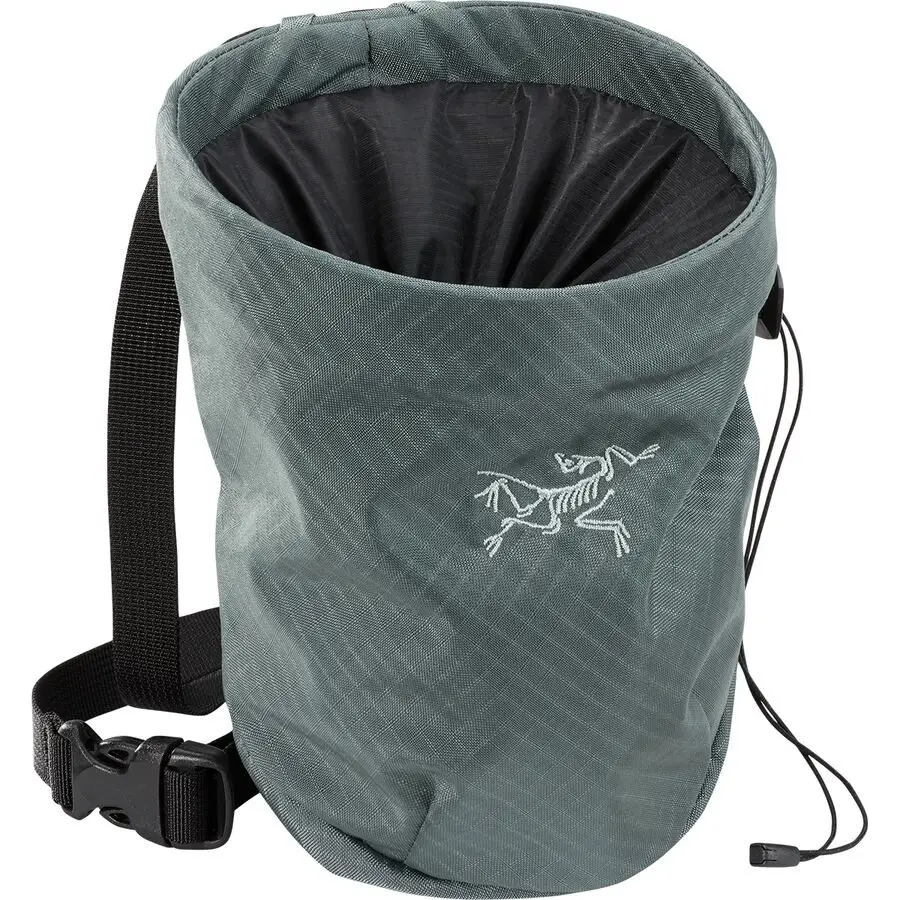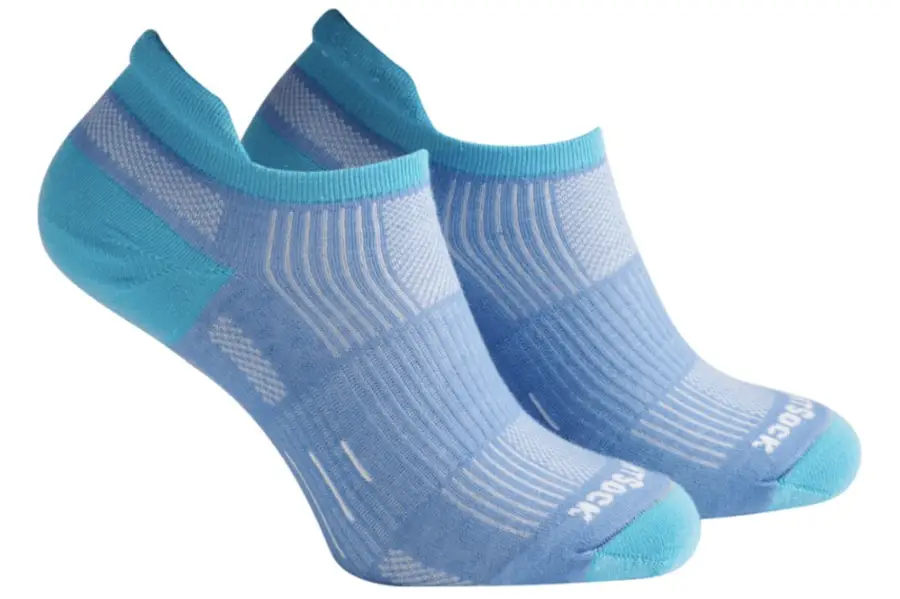 WRIGHTSOCK ECO Run Tab Socks
Though climbers don't wear socks while climbing, we do wear socks with our approach shoes on our way to the crag. Most climbers that want eco-friendly socks for this part of the climbing adventure are going to consider being both eco-friendly while also providing support and minimizing blisters.
Since climbing shoes are so small, blisters are extremely painful and can actually make it so you can't climb anymore. That's why these socks are such a great choice.
If blisters are your #1 foe when running, the WRIGHTSOCK Eco Run Tab socks offer blister-free comfort and support for runs long and short in breathable, moisture-wicking REPREVE® fabric.
Sustainable, strong, and lightweight double-layer REPREVE recycled polyester fibers sourced from 1.9 plastic bottles
Steeped Coffee
What sets Steeped Coffee apart is it's a proprietary brewing method that does not require machines or brewing equipment, made much like tea. The coffee comes in single-serve bags that are nitro-sealed to ensure absolute freshness. It's a uniquely "unplugged" coffee experience, from the award-winning packaging made using compostable and renewable materials to the non-GMO filters. All it takes to brew a perfect cup is hot water and a few minutes, and at the end of the day, there are no wasteful plastic pods accumulating in waterways or landfills.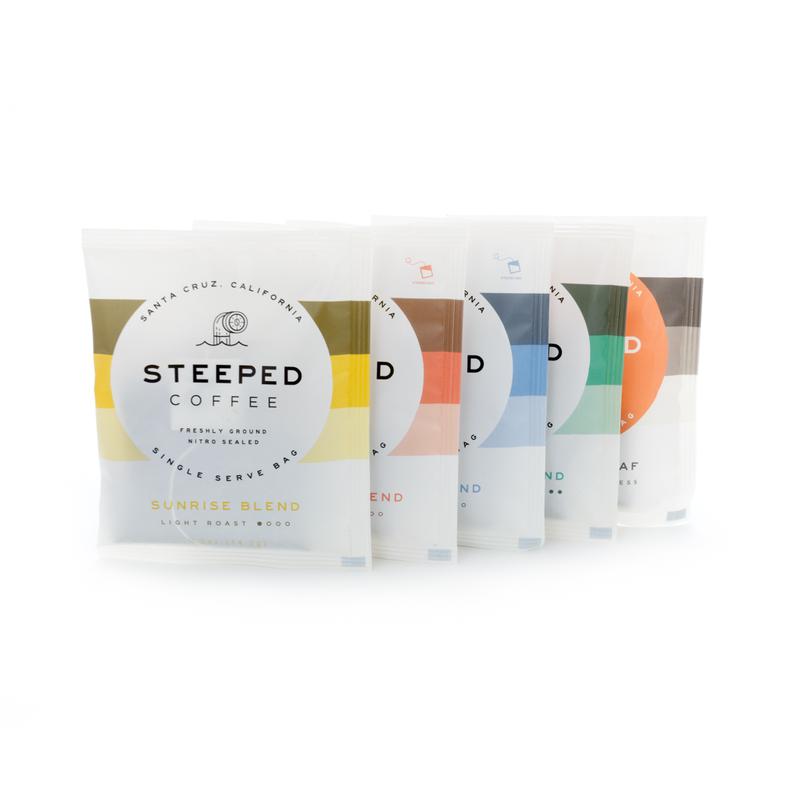 GIFTS UNDER $100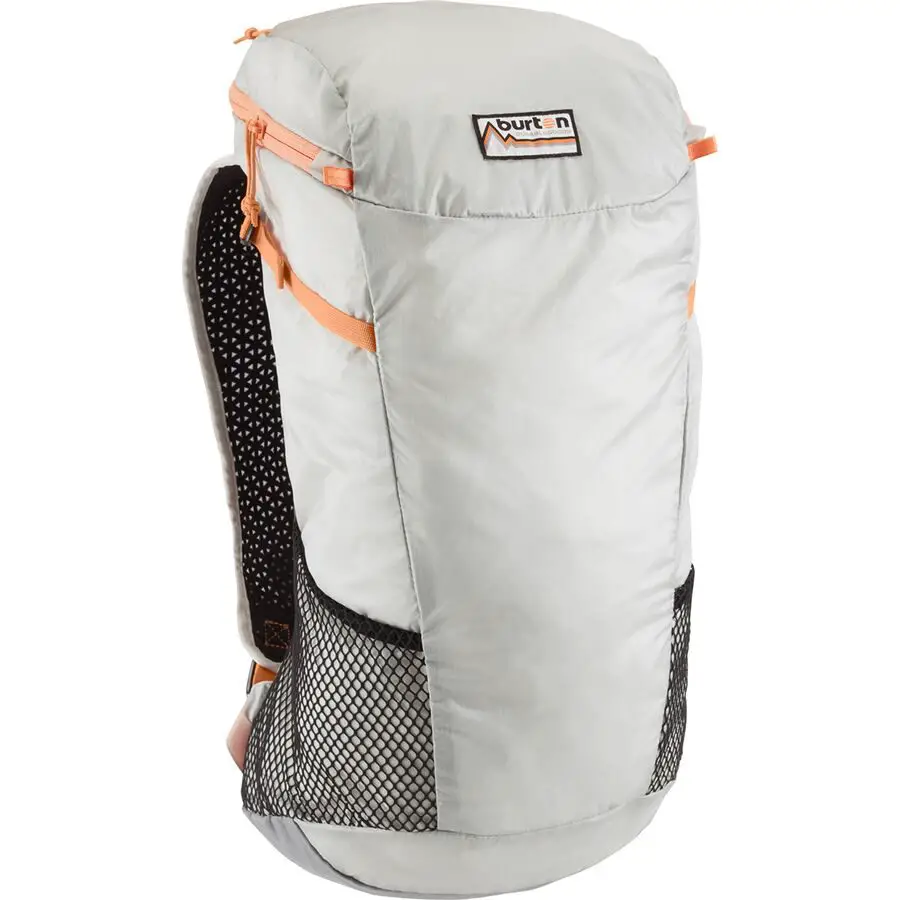 Burton Packable Skyward 25L Daypack
This packable bag is not only super convenient when traveling or when you have limited storage space, it is also Bluedesign* approved. This means that is primarily recycled material and is eco-considerate.
Whether we're enjoying sunrise views from the summit or the window seat, this lightweight pack hauls all we'll need to make it through the day. Post-travel, when our backpack is free of snacks and souvenirs, its packable design folds into its internal pocket to stash in our suitcase or gear closet while it waits for the next adventure.
Powertraveller Extreme Solar Charger
The Powertraveller Extreme Solar charger is a lightweight, clamshell solar panel offering 5-watt, 5V 1A output—perfect for charging phones, GPS systems and handheld action cameras.
Ideal for charging small devices such as cameras, phones, satellite navigators, GPS devices, music players, watches, headlamps and more. The panel opens to a 210° angle, making it easy to attach to backpacks, tents or bike panniers while allowing optimum power from the sun. Plus, MPPT technology means the panel can still deliver power, even in low-light conditions.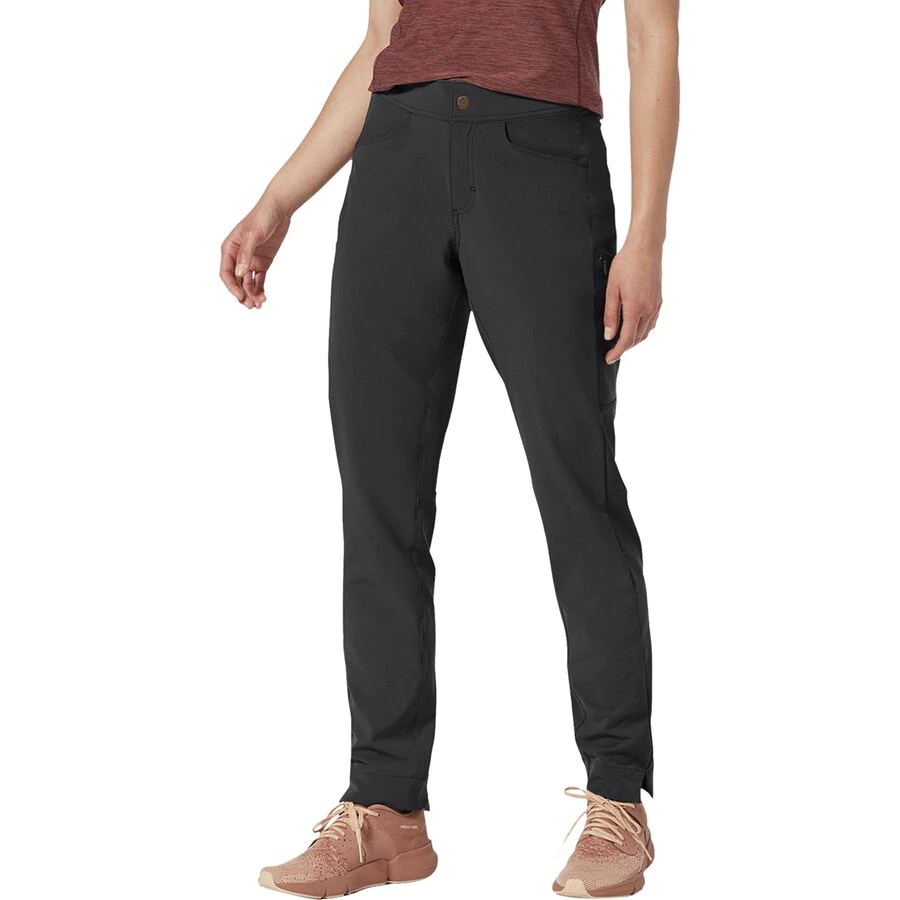 Royal Robbins Alpine Mtn Pro Pant
Climbing plants are unique in that they move and stretch with all the movements needed to successfully climb a route. Unlike other types of pants, they are typically more breathable and have extra material to help it last longer than a basic type of pants.
These pants are Bluedesign* approved with over 80% recycled content. The 4-way stretch double weave fabric and our uniquely engineered multi-flex waistband offer complete freedom of movement. Equipped with C0 DWR water resistance, it also dries fast and offers sun protection, making it our best pant for outdoor hiking and climbing.
Patagonia Better Sweater 1/4-Zip Fleece Jacket
Climbers tend to have a specific look during the winter – either fleece or puffer. This is the perfect fleece jacket you love the classic look and trusted warmth of wool, but you want something better for outdoor activities, we can't help but recommend the Patagonia Better Sweater 1/4-Zip Fleece Jacket to act as an ideal eco-friendly alternative. Made with 100% recycled polyester and a low-impact dye process, the Better Sweater is better for you and for Mother Nature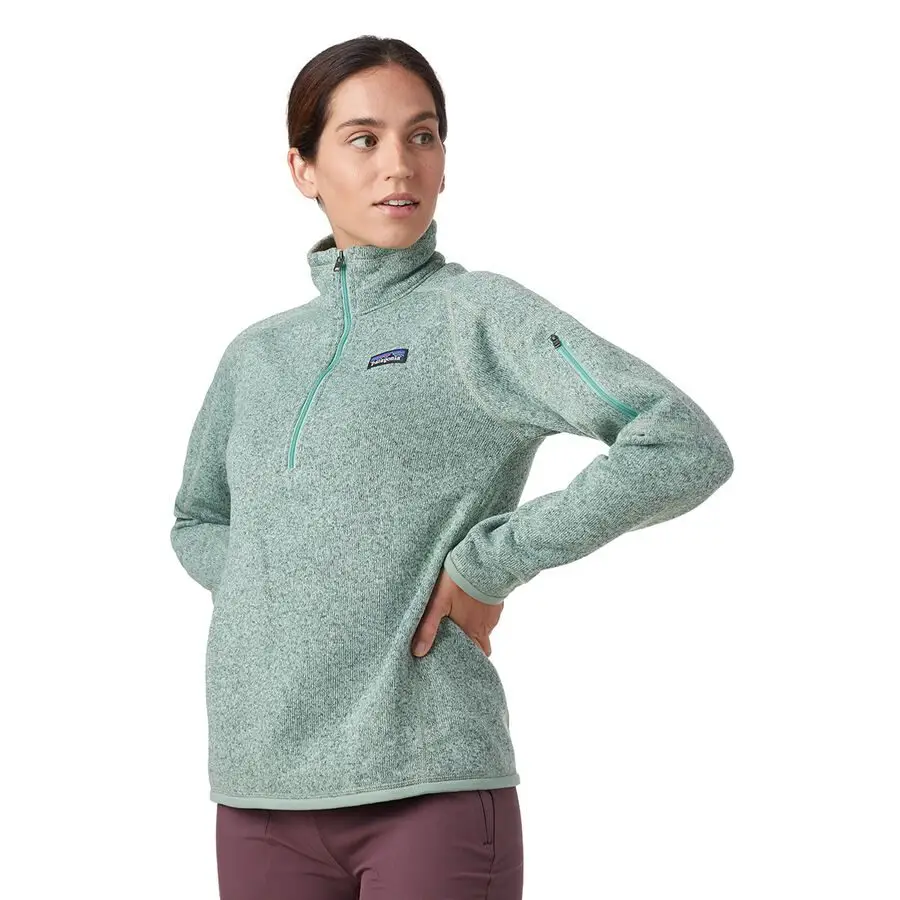 GIFTS UNDER $200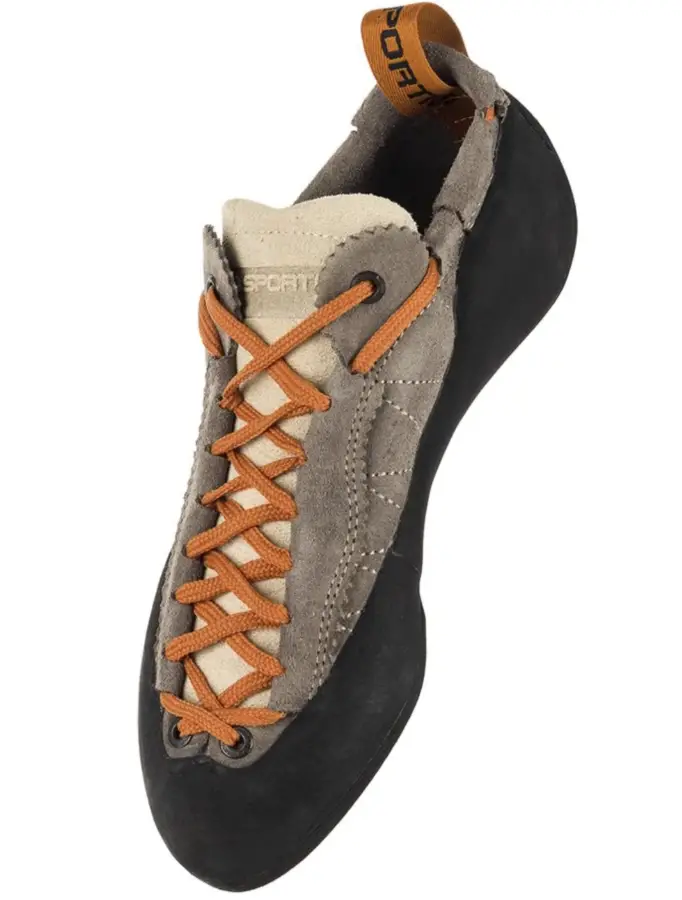 La Sportiva Mythos Eco Climbing Shoe
The Men's Mythos Eco Climbing Shoe is basically the same shoe that crack and multi-pitch climbers have come to love for the past generation, but La Sportiva made 95% of it out of eco-friendly materials. The biodegradable leather upper comes from Idro-Perwanger's metal-free tannery to reduce impacts on the environment, and La Sportiva's Eco rubber is 100% recycled.
Maestro Eco Climbing Shoes
Designed for comfort and performance on all-day routes, the men's Scarpa Maestro Eco climbing shoes excel on exciting face climbs. They provide dynamic support for tough objectives.
Lined premium eco-leather is durable and supportive while minimizing the environmental impact of the tanning process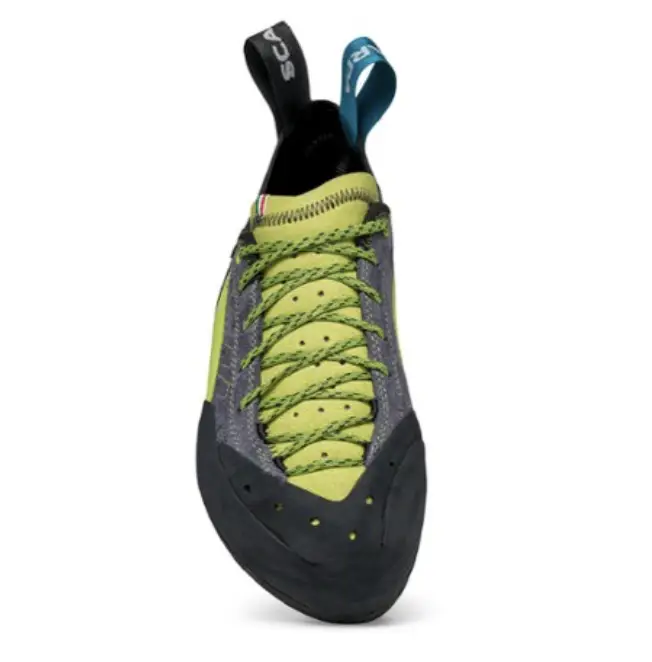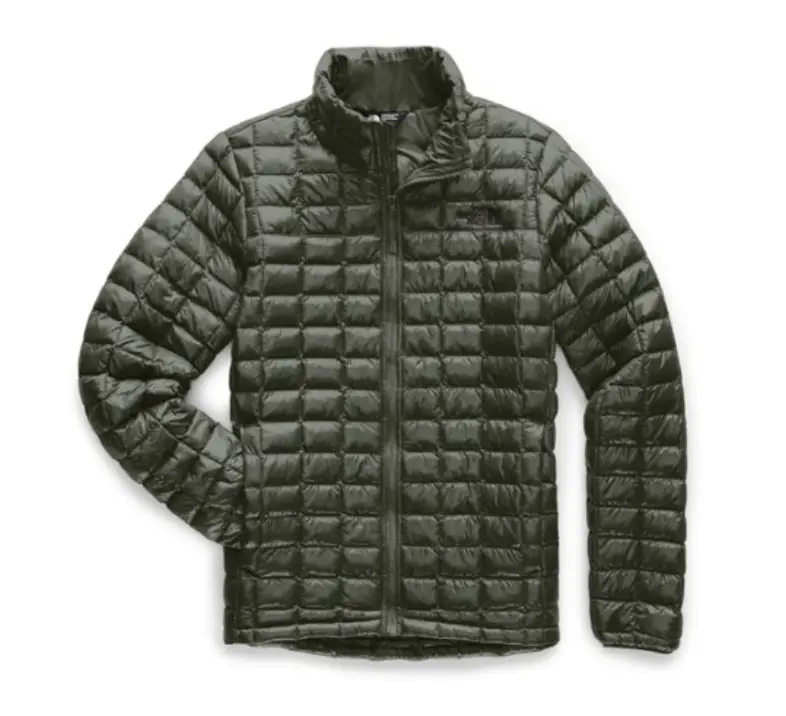 The North FaceThermoBall Eco Insulated Jacket
Charge with confidence into your cold-weather adventures in the women's The North Face ThermoBall Eco insulated jacket. This slim-fitting puffy packs down small, but is big on warmth.
ThermoBall™ Eco insulation made from 100% post-consumer recycled polyester provides warmth even when wet
PreCip Eco Jacket
Stuffing into its own pocket so there's no reason to ever leave it behind on your travels, the women's Marmot PreCip® Eco jacket is sturdy and durable, with a patented dry-touch finish.
Waterproof/breathable, PFC-free Marmot NanoPro™ recycled nylon face fabric lasts longer than ever, thanks to the advanced technology of the microporous coating