No matter what you get her, I'm sure she'll love it. However, if you want some insight for ideas on what to get her from a woman who boulders, here is your ultimate guide.
Not only does this guide provide recommended products, it also give you insight into why she'd like it. This is incredibly helpful if you want to get her something similar, but different so you know what to look for so that it is still the perfect gift.
Top 3 gifts if she doesn't already have it
1. Acrylic Mug
---
---
Chalk/ Chalk Bag
Chalk is always a welcomed gift among climbers, you can never have enough. Some climbers prefer a specific kind of chalk or chalk brand but most are happy to try different brands or types if they don't have to pay for it.
The most popular brands are Black Diamond, Friction Labs and Joshua Tree. Each brand offers something slightly different.
Chalk Buckets
Chalk buckets are common among boulderers. They hold your chalk and are big enough to place both hands in at once. Plus, they are big enough to set on the ground without falling over while you are bouldering.
Waist Chalk Bags
Waist chalk bags are usually secondary to chalk buckets because when you are bouldering you usually leave the chalk bag on the ground. However, some climbers prefer having the chalk on them at all times so having it around their waist works for them.
---
Fancy Water Bottle
Everyone needs a water bottle, especially while they are bouldering. There are tones of bottles for sale online but Hydro Flask is definitely the most popular brand.
I personally love the cute designs that you can get from REI and usually like to fill water bottles with gift cards and stickers or other fun things to make the gift a little more than just a bottle.
---
Brushes
Most boulderers already have a brush, but having another brush is always nice, just in case! I have a brush in my chalk bucket and my waist chalk bag. One is fatter than the other and I wish that I had a fat and skinny one in both chalk bags.
The fat brush is good for large holds and large coverage whereas the skinny brush gets into small crevices and corners that the large brush can't reach.
These brushes come in multiple colors and are very durable so you dont have to worry about them when you chuck them on the ground.
---
Black Diamond Session Approach Shoe
These approach shoes are super light so they won't notice wearing them and they are light enough to go with her anywhere. The heel is built to fold down so she can slip them on while watching a friend climb. 
---
Magazine Subscription
Magazine subscriptions are fun and the climbing community has a few to choose from. These ones are probably the most popular but I love them all.
If she likes the indoor bouldering world, then I highly recommend the Gym Climber magazine subscription (plus it is cheap).
I was surprised about how much I enjoy the Gym Climber magazine. It has tons of training recommendations, climber profiles and all the deets on bouldering competitions around the world.
---
Hangboard
Hangboards around the globe sold-out during the COVID-19 pandemic, which is an indication that climbers and boulderers alike, love hangboards. It's a great tool for her to train different grip types and grip strength.
---
Chair
Either you can choose to sit on the ground or you can sit in a chair when you are bouldering. As great as dirt is, a chair is usually preferred.
It is also ideal to make a chair more portable so it is easy to get to the location you are going to.
There are many portable chair brands but (probably) the most popular brand is Helinox because they are light and pack small. REI also makes super light chairs at half the price so they are worth checking out as well.
These two are among the most popular. Though I prefer the rocking chair because I can easily lean back in and look at the sky, there are plenty of people who prefer swiveling back and forth.
---
Climbing Pants
Black Diamond Notion Pant – Women
See color options and current pricing from Black Diamond here.
These pants are amazing! I got them for bouldering but I wear them everywhere – hiking, grocery shopping, when I go out with friends, etc. I liked my first pair so much that I bought them in 3 other colors… That is how much I like these pants!
They have extra material in the crotch area so that you can spread your legs into splits for difficult bouldering moves (if you can) and they have a durable fabric so they can handle the rock face and sliding down when you are trying to get off the boulder.
I've been wearing them for about 6 months and many climbing sessions and none of them have holes or signs of wearing. 
---
Climbing Book
---
Acrylic Mugs
Acrylic Mugs can be seen in most boulderer's home and camper vans because they are so fun and helps you express yourself.
I have a lot of ceramic mugs I usually leave them at home because I'm worried they will break. Acrylic mugs are super durable and aren't going to break.
For example, you can drop the acrylic mug off the top of your boulder project and it won't break.
---
Hand Care Kit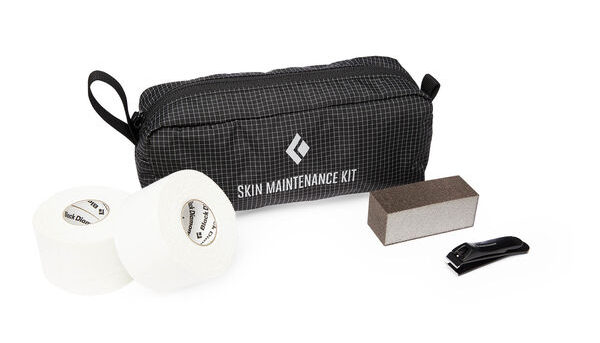 See the current pricing from Black Diamond here.
I bought this Black Diamond Skin Care kit late last year and it has almost everything a boulderer needs to care for their skin. Most skincare kits that are made for climbers only have a few files in them (like this one from BackCountry ) but this one also comes with a skin clipper that has a flat edge, which is ideal for clipping off the flappers. It has tape to help protect new/growing skin and it has a file block that has all of the different textures needed to maintain callouses and prevent flappers from occurring.
The only thing this kit is missing is a salve or cream. After a long climbing session, it is common for climbers to have sore skin. These salves and cream help ease the pain and also helps the healing process so you can be ready to climb faster.
ClimbOn is the most popular brand for skin salves and cream. I've used both of these products. The lotion bar (salve) definitely lasts longer but the cream is soft and easy to apply.
---
Portable Coffee Maker
Bouldering trips are the best. You camp next to the boulder you are working on and each morning you wake up to the sunrise and birds singing before you start bouldering. The only thing missing from this picture is a fresh pot of coffee.
---
Day Pack
Daypacks and backpacks are a must for any woman hiking to their favorite boulder. Depending on how long the hike is or if they plan to stay overnight, they may just need a drawstring back to carry their shoes and socks or they may need a 20-40L bag to carry a weeks worth of food, clothes, gear, etc.
These bags are built for the rugged outdoors and can take a beating, but they also look super cute and can be used out hiking or even in town around the subway.
---
Grip Trainer
There are four main types of grip trainers and they focus on different parts of the grip strength focuses. 
The ring grip trainers are the upgraded version from the grip trainers that have two handles and a spring inside it, help train the tendons that help you curl your fingers in.
The individual finger trainers train the same tendons as the ring grip trainers but focus on one finger at a time.
The ball with ring holders trains the opposite tendons as the ring and finger trainers. They are ideal for decreasing hand injuries for climbers by building tendons on both sides of the fingers
The spinning ball grip trainer is a little different as it primarily builds forearm muscles and secondarily builds finger tendons as well.
So iLL Strength Trainers – Set of 3
This set comes with three different intensities. If you are already a climber/boulderer, then the easiest one will probably be one that you can do high-reps for a long period of time. The most intense one is pretty firm and it takes some strength-building before you'll be able to squeeze it all the way.
Plus, So iLL made their trainer with a soft rubber coating so it doesn't hurt your skin or hand when you pinch it together.
---
Solar Power Charger
Keeping your phone and camera battery charged at the boulder is important . An easy way to ensure they have battery power to do whatever you need them for, you can harness the power of the sun with a solar power charger.
If she only carries her phone with her, then consider getting a smaller solar paower producer, however if she takes her camera, drone and laptop to the crag, you may want to surprise her with something that can handle all of the too.
---
Sticker Packs and/or Enamel Pins
Stickers and pins are a great way to share what you love on your water bottle or backpack or for many women boulderers, on their chalk bag.
The trick with finding the right sticker or pin is knowing what they will apply it to. If they have a collection of stickers, then find a sticker that is a similar size to the ones that they use.
I really like the pins that say what grade boulder they climb, like this one from Etsy.
---
Women's Terradora II Waterproof Boot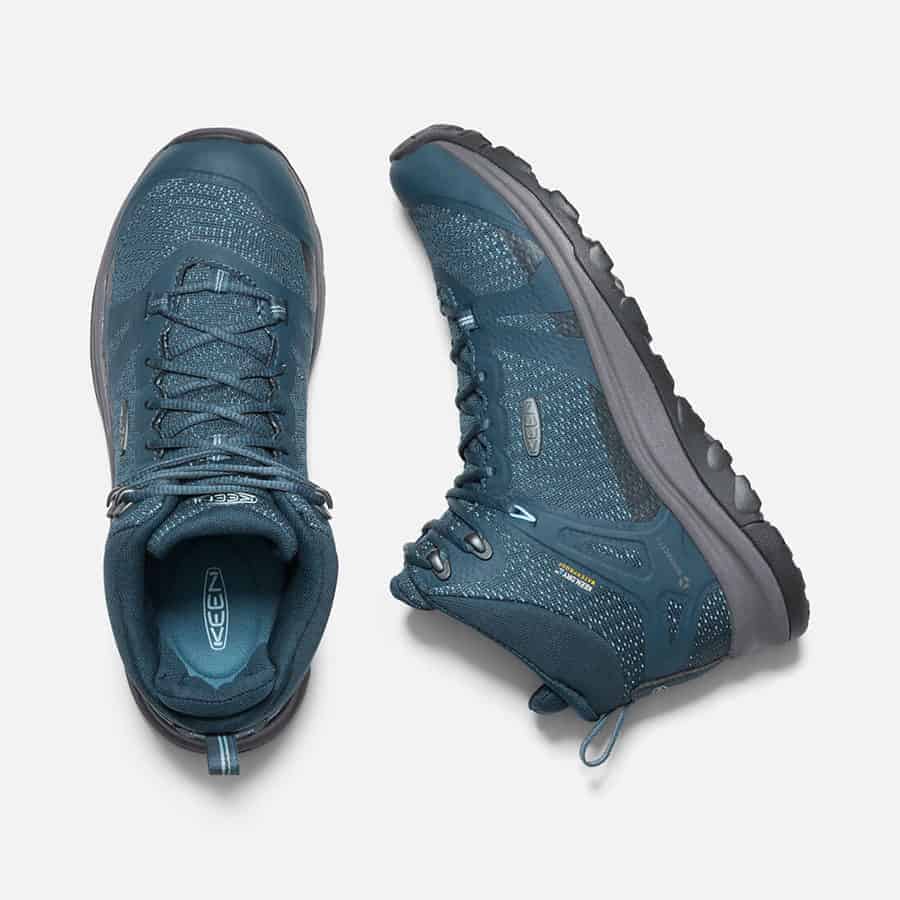 See the current price from KEEN Footwear here.
When it comes to bouldering, sometimes you have to hike to get to the perfect spot and sometimes you have to wade through streams, making a waterproof hiking boot important for a great experience.
Overview
These shoes are not only waterproof but also the footbeds are infused with probiotic technology that naturally breaks down odor in sweat without heavy metals or hazardous chemicals. Plus, they come in multiple colors and are super cute!
Reviews
Women that have worn these shoes say they are super comfortable, they give great ankle support,  and many even said that they keep buying them over and over again because they are so amazing. 
About KEEN Footwear
KEEN Footwear, the maker of this hiking boot is known for its quality material, innovating products and since 2003, they've donated over $18 million in cash and product donations for youth, disaster relief and beach cleanups.
---
Climbing Journal
There are two main reasons climbers and boulderers journal.
They want to remember each move that they figured out so when they try the route again the next day or next week, they don't have to re-figure anything out.
They want to track progress or improve their bouldering faster so they track training, food intake, sleep duration and anything that they think would help them get a bigger picture.
---
Messager
Bouldering is a full-body workout and part of that makes soreness a common feeling for bouldering women. A message is a great way to help relieve that soreness.
---
Speaker
Speakers are perfect for adding some entertainment at the boulder that she is working on. To make the speaker worth getting, you want to make sure that it is wireless and has a decent battery to last the entire climbing session.
Most bouldering sessions are 3-5 hours but it is a good idea to get a speaker that lasts longer since the battery life is commonly the first thing to start dying and you want the speaker to last as long as possible.
JBL Clip 3 Portable Speaker
Outdoor Tech Speakers
Outdoor tech makes some amazing and durable speakers, including these two below. I haven't actually used them myself, but reviews suggest the sound is amazing and they can take a beating.
MPOWERD Luci Explore Solar Light + Speaker
Battery: High (220 lumens): 5 hrs.; low (20 lumens): 24 hrs.; speaker 4.5 hrs.
Material: ABS base with water-resistant textile
---
Various Climbing Shirts/Hats
The t-shirt, if you already know her size, is a great gift for any woman. Especially if it has a design that shares her love of bouldering.
Depending on her style, she might prefer sleeves or a tank.
When I boulder, I prefer a tank-top because my shoulders are free to rotate and move without restriction. Plus, I don't have to worry about exposing my belly when I put my arms above my head.
---
Hammock
Often times boulderers like to take breaks between climbs and hammocks are light and portable ways to do that. Plus they are fun to take naps in.
Overview
This hammock is built for two people (up to 400 pounds) so she can share it with a special person or just give her extra space to enjoy. It packs down very small, making it super portable and easy to set-up/clean-up.
Reviews
Many people who use this hammock say that it is very durable and comfortable. In addition, they pack small and light making it a great addition to anyone's gear bag.
---
Firstaid Kit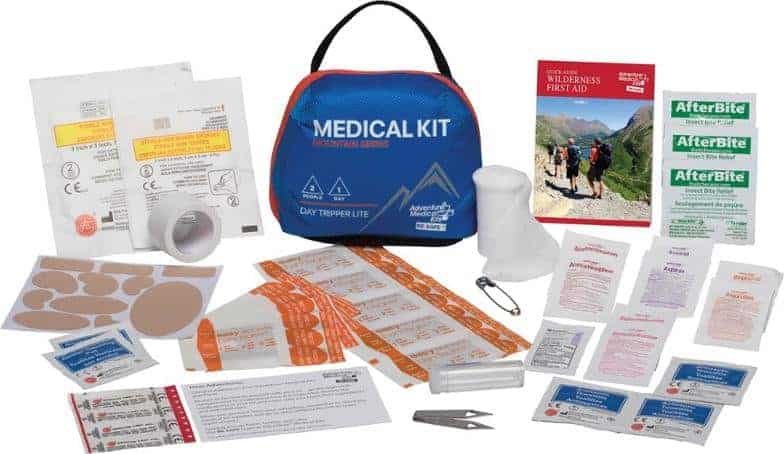 This is one of the most important things that boulders should have with them during their adventure. However, most climbers that have a First-Aid Kit with them do so because they got hurt or a friend got hurt in the past and didn't have one.
You can be the one that helps them be prepared by getting this First-Aid Kit for their bouldering adventures.
One of the things I love about this specific kit from REI is that it is super lightweight and also comes with a mountaineering first-aid book so you can use it as a reference guide if you don't know how to deal with something.
---
Poster
Most climbing posters are of rock climbing and not bouldering, so if the woman you are shopping for only does bouldering and no rope climbing, then consider getting a poster that isn't specific for climbing
---
Healthy Snacks
Everyone snacks but a woman who boulders probably cares about where her food is coming from and how healthy it is for the body. These snacks are perfect for her.
There are a ton of snacks that you can get but I highly recommend getting snacks that are easiest to bring to the mountain and even backpack with.
Camping is a common hobby for boulderers so snacks like granola bars, protein bars, freezdried food, and nuts are among the best that you can get.
About Patagonia Provisions
Patagonia Provisions, from the well-known company Patagonia, started selling organic food that is sourced responsibly and sustainably.
I was surprised that one of my favorite mountain apparel companies was selling food so I did some research and was really impressed with the nutritional value that you can get in such a light package.
They even have a 2-Day Camping trip Kit for two people that I intend to try out for myself because it would be incredible not to need to worry about all the food I need to buy for a trip with my spouse when I can just order everything as a kit.
---
Camera
I have this camera and am amazed at how much you get in an incredibly compact and light package.
1.0-inch CMOS Sensor
20.1 Megapixel High-sensitivity
1080p Video
3x Optical Zoom
Ultra-slim and lightweight: 7.3 ounces
3.0-inch Touch Panel LCD