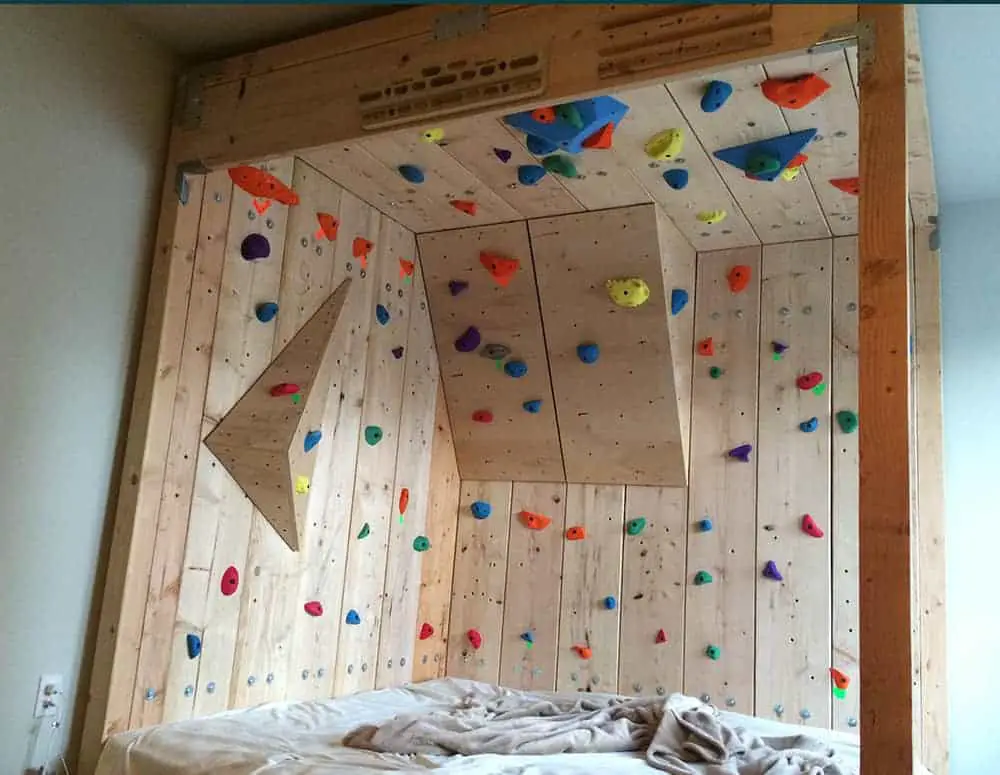 With climbing gyms shut down around the world, you may be trying to figure out how to satisfy your climbing itch while confined at home.
The following are the top 10 designs for at home climbing gyms.
If the purpose of your climbing gym at home is for training only, then this is the perfect wall for your home. Not only can you test yourself on different hold types but you can also switch between the holds and other dangling training devices.
This may be the perfect setup for all climbing training types on the wall and off.
Depending on how tall you are, a small wall like this might work perfectly for your climbing itch. One of my favorite things about this wall is the location of the hang board. What a great way warm-up for your hang training than by climbing around for a few minutes.
One of the best things about this climbing wall setup is how small it is while still being very functional. In addition to different climbing hold types and movement while climbing, everything you need for grip training, core movements, and even helps with footwork training on inverted angles.
This climbing wall set-up is a great way to use all of the space you have for climbing. No matter how tall your ceiling is, you can still work on traversing or add your own version of a moon board to keep your climbing training at home.
One of the most common spaces for at-home workout gyms is the garage, but it is less common to see the space built into a climbing gym since most people still use the garage for their car. 
This design was smart enough to ensure the full functionality of the garage door and possibly still fit the car, if needed. Making it so you can park the car in the garage at night and either climb with the door opened or closed, depending on the weather.
Many climbers are familiar with the backyard climbing wall but you can get a great deal of climbing space if you just transform your attic space into an awesome two-sided climbing wall. Though I'd probably use thicker pads if this was my setup.
Just off the kitchen, this room was built to allow family socializing while training for climbing. I know I'd love to climb while I waited for my noodles to cook. Maybe this is how that can happen.
Growing up, I really wanted a climbing wall on the side of our house but now that I've seen this… This would be the coolest kid's/family room and I know all of my friends would want to be at my house every day.
This is the perfect bed for any climber! If you plan to add this to your own bed/home, consider mounting your alarm clock to the top of it. What better way to wake up in the morning than to climb to turn off your alarm?
The ultimate home climbing wall brings in the outdoor elements with the control of indoor climbing holds. In addition, it needs to have different angles and variety so you can challenge yourself for a long period of time without getting bored. 
This wall has meets all of those requirements, plus it looks cool. 
Apparently the owners call it "Cathedral," which I'd definitely attend services if it was like that.
If you think your at-home climbing gym design deserves a place on this list, add a link to your images in the comments below.