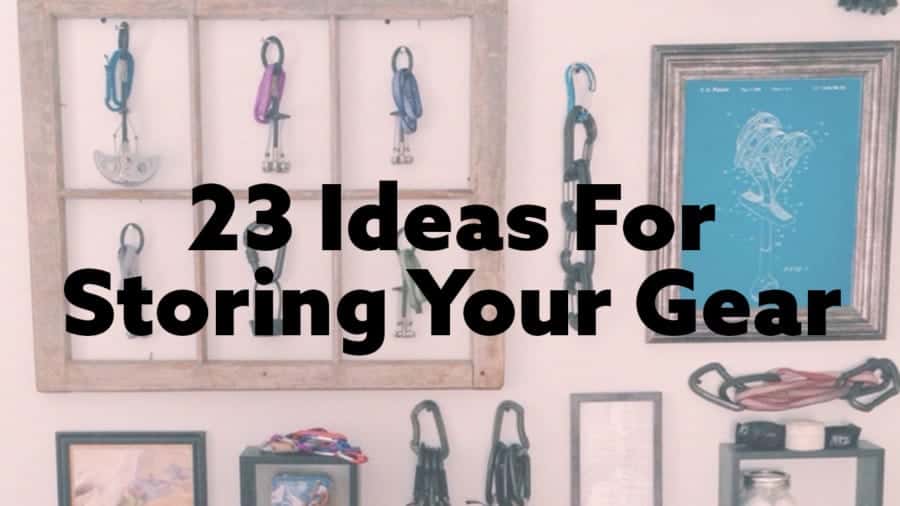 Storing your gear in an environment-controlled space is important to ensure that the gear lasts as long as possible. With that being said, here are 23 ideas for storing your climbing gear.
1. Customized Book Shelf Heaven
Reorganizing the height of shelves, adding rods for hanging jackets and drawers makes a bookshelf a great way to organize your climbing gear. 
I know if this was my garage or gear room, I'd be proud to showcase it to literally everyone that comes for a visit.
2. Ready To Climb Bag
This is probably my favorite way to store gear. It isn't a visual masterpiece, but it does make it easy for you to quickly grab your gear and climb without additional prep time.
3. A Pallet Of Gear
My favorite thing about this design is that it is primarily made from a pallet. You can treat this wood with a flame for that fun burnt look and then use basic hooks to add your gear to it. Perfect for a DIY.
4. Frame It
I love how this design turned out. It looks like a wall of decor where it's actually functional decor that you can take down and go climbing with. All you need are some frames, a few nails and some accent art peices.
5. The Closeted Climber
If you want your climbing gear out of the way and out of sight, this is a great way to keep everything organized in a closet. Pro tip: spray your shoes with Lysol before putting them in a closet so it doesn't make all of your clothes smell like stinky shoes
6. Ultimate Outdoor Outfitter
If you have a wall like this, then there is no doubt that you are either a major outdoor enthusiast or you're trying to sell gear like a professional.
7. Home Climbing Wall Storage
If I had a home climbing wall, I'd definitely consider building storage into the back of it. When you don't need the gear or don't need to see it, it is disguised as a fun and functional climbing wall.
8. Custom Drawers for Gear
This is a DIY gear drawer that looks like it dangles under a mattress in a van or something like that. Either way, turn any space into a gear drawer by replacing the drawer with two square dowels and rods running between them.
9. Single Bookshelf Rack
Most of us don't have enough gear to fill a wall, but most of us probably have enough to fill a bookshelf. Plus, you can frequently find a bookshelf at Walmart for $20 so it doesn't cost very much.
10. Just Being Relatable
This is definitely a more relatable gear storage than what most of the gear storage displays are on this list. It doesn't look pretty, but it takes up minimal space and holds everything you need it to.
11. The Cute Mountain
Some genius on Etsy decided to make and sell these for all the climbers out there that don't have much gear.
If you don't have a lot of gear, then a cute mountain with carabiners can be a great option for you.
12. Shelf and A Basket
It doesn't take much to make a super organized gear space. All you need for this is a shelf, a basket and a strip to hold everything. Plus, if you rent your place, it only takes 8 or sow screw holes.
13. Laundry Drying Racks
My grandma had drying racks like this and I thought they were sooo cool. Well now that I'm older and I'm seeing them used to store gear, it is even cooler!
Plus, you can dry your gear at the same time…
14. The Accent Wall
Turn your pretty wooden accent wall into a mount for all of your climbing gear. Then the climbing gear becomes a design accent for whatever room it's in.
15. 2x4s and Boxes
This design is super simple to make and only requires a 2×4 that you cut down to different sizes and a screw to drill it to the wall.
If you want to take this design to the next level, try sanding and staining the 2x4s so that it matches whatever other colors you have in the room.
16. Climbing Gear Work Bench
I like how this work bench is covered in cool stickers and organizes your gear in a small space. It's personal and useful, perfect!
17. The Mobile Rack
One of my dreams is to live in a van with my wife and travel the states on climbing trips. I imagine this is going to be exactly what our climbing gear storage will look like.
It fits perfect and you never have to worry about forgetting your gear when you drive to the crag. Just make sure you brought the right van!
18. The Clean Pallet Look
We showed you a pallet that was stylized and altered to match the personality of the climber earlier. This pallet is exactly like what you would find on the side of the road with a "for free" sign taped to it. Well, maybe it's been sanded down…
19. Basic Peg Board Design
When it comes to climbing gear, having a basic pegboard can be an easy and cost-effective means of displaying your gear and keeping it organized while you aren't using it. Though I think this picture is in someone's house, it would also be great for a garage (if your garage is environmentally controlled).
20. Under The Stairs Strips
No matter how much gear you have, there is wall space somewhere that you can use to hang up your gear. In this case, place a couple of 2×6 on the wall under your stairs where it is too low to put pictures but just tall enough to fit your stuff.
21. Hanging Hanger Rods
Even if you don't have a shelf or two perpendicular walls for a rod to go across, this is proof that you don't need them. Just bolt some carabiners to the wall and hang the rod between the carabiners for a nice gear hanging display system.
For extra security, take a book from this person's handbook and run cord through the middle of the rod from one carabiner to the other so that they don't come unhinged.
22. Roll It In A Tarp
This is probably one of the most popular ways to store your gear. All you need is a tarp but if you want some straps, consider getting a rope bag with a built-in tarp.
Most climbers just let the gear dangle in the bag, but if you need to, there are tarps made for climbing gear that have loops and pockets to organize everything.
23. Anchor Climbing Gear Rack
This is an actual product that was built to help you store your climbing gear and it looks really stable. I'd say my gear needs some stability since I fall every time I use them.