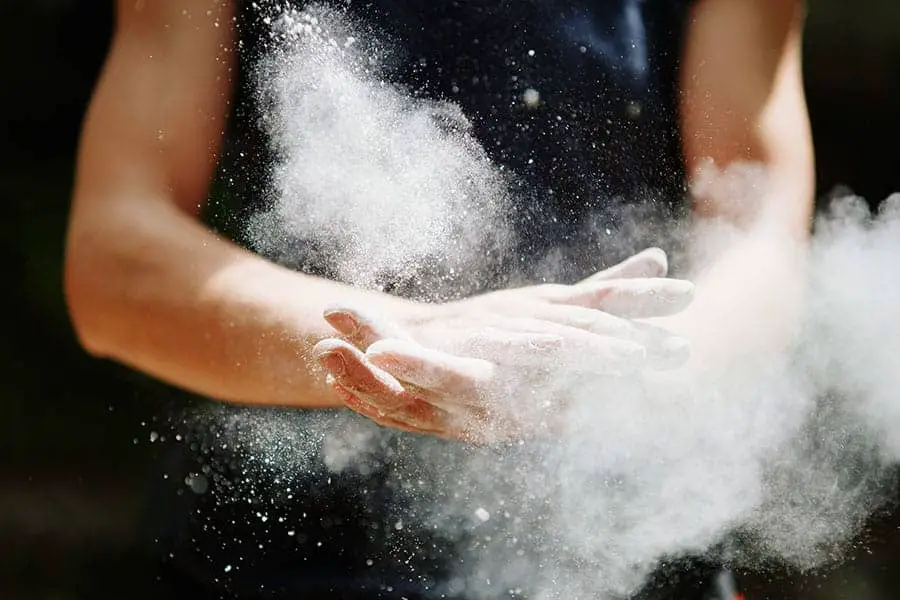 Once you start becoming more serious about climbing, you may ask yourself if you need to upgrade your climbing chalk to a new brand or a different consistency. For me, when I started climbing, I used the cheapest chalk I could find but since then I've experimented with different brands and consistency ranging from ultra-chunky and ultra-fine to see what was best.
Since my preference isn't going to match that of everyone else's, I read a lot of articles and got input from hundreds of climbers about their favorite chalk and whether or not they think it makes a difference.
Long story short, the brand and type of climbing chalk you use does make a difference when it comes to comfort, but it makes little difference when it comes to climbing performance.
If you want to hear more about the different chalk brands and what climbers said, keep reading.
Can You Climb Without Chalk
Before deciding what brand chalk you should purchase, you may be wondering if chalk is even necessary at all. When I introduce friends to climbing, they frequently don't like wearing chalk to climb and if they do, it is so little that I don't think it makes a difference. So if people that are just getting into the sport climb without chalk, is it actually necessary or is it something that we've just accustomed ourselves to in the climbing culture.
To find scientific proof behind whether or not you need chalk, I decided to look at what published studies had to say and I was surprised to learn that even scientists haven't decided if the chalk was necessary to climb. 
Each study I read seemed to suggest something different. For example, one study said that you need to minimize the amount of chalk on your hand to maximize friction and another said that chalk helped with endurance. 
I wrote an entire article on it here if you want to go into greater detail, otherwise, let me get to the point. Some people benefit from wearing chalk while climbing and other people don't….
Chalk Consistency: Chunky to Fine
With so many climbing chalk brands out there, it is hard to sift through and find the best one for you. However, a somewhat easier way to narrow down your choices is by understanding what type of chalk consistency you prefer. That way you only look at the brands that offer that kind of consistency. Below is a quick rundown for the most common chalk consistency.
Chunky
Chunky chalk is exactly what it sounds like, chunky. It is clumps of a chalk brick that has been broken down into smaller pieces so that you can crush the clumps in your hands. Clumps can range from an inch in diameter down to an eighth of an inch so the range is pretty big.
Many climbers who use chunky chalk have explained that they like how the chalk feels smushed in their fingertips and it makes them feel like the chalk will last longer. In addition, many climbers mentioned that it isn't as messy as fine chalk because it doesn't create a cloud of powder when you dunk your hands in the bag. This is also argued as evidence that chunky chalk may last longer than fine chalk.
Fine
Fine chalk is when the chalk has been ground down to leave a smooth powder. To apply it, you usually just dip your fingers in the chalk bag and then rub your hands together. Many climbers that use fine chalk suggest that they like how soft the chalk feels and that it seems to fit into the little cracks in your fingertips better.
A Mix of Fine and Chunky
This is the most common type of climbing chalk. Some climbers suggest it is the most popular because it is easier to produce and thus, there is more of this type provided. However, some climbers suggest it is because you can get the benefit of the feeling of crushing the chalk between your fingertips (which you really have to try to understand) and being able to get the soft powder in all of the little crevasses.
Popular Chalk Brands
With chalk being used in climbing, gymnastics and lifting, there are many chalk brands that are getting the attention of climbers around the world. Below is a quick review of the top climbing brands and what climbers have to say about them.
Friction Labs
Consistency: Ranges from Chunky to Fine
Friction Labs is recognizable for its iconic packaging showcasing a Donkey with boxing gloves, a Gorilla and a Unicorn. They are most known for their ultra-fine chalk (which is super soft) but they also provide chunky and ultra-chunky chalk. 
Most climbers that use Friction Labs chalk will mix the chunky and ultra-fine chalk together. As for me, I thought I knew what ultra-fine chalk was until I felt how soft and fine Friction Labs makes their chalk. I have since then decided that you probably won't find anything finer than that.
In addition to their loose chalk products, they also make alcohol-free liquid chalk and a chalk ball. I haven't used the chalk ball, but their liquid chalk is the best liquid chalk I've used. I can frequently use Friction Lab's liquid chalk for 25-30 meters before needing to apply more chalk and my hands sweat a lot.
Black Diamond
Consistency: Mix between Chunky and Fine
Black Diamond is one of the most popular brands when it comes to all things climbing gear and they have great climbing chalk. Their most popular chalk is Black Gold and White Gold. Black Gold is probably their biggest differentiator from other brands. It contains 90% of their White Gold Chalk and the mix it with 10% Upsalite, which is supposed to be very absorbent.
My experience with White Gold and Black Gold is that Black Gold does feel different than other brands. It is a mix of fine and chunky chalk so you can smash the clumps if you prefer that or just wiggle your fingers together in the bag. 
Joshua Tree
Consistency: Mostly Chunky
Joshua Tree is most known for its climbing salve, but they also produce chalk that is different from any other branded chalk. Most of their chalk is scented. The most popular scent is Flower Power but they also have Ice and Fire. According to other climbers, the ice scented chalk makes your hands feel cooler while the fire scented chalk makes your hands feel warmer.
I haven't had a chance to try it yet, but it's certainly on my list.
Compared to other climbing chalk brands, the focus isn't on the consistency (its chunky, in case you were wondering), they focus on the herbal benefits. For example, the description of Flower Power explains that in addition to drying out your hands, which is what you need chalk for, it also provides a calming effect for your mind and worn fingertips with its blend of Lavender, Rose Geranium and "a touch of Patchouli."
I haven't tried aromatherapy through climbing chalk, but I have tried aromatherapy through essential oils while training, and there is something to be said about how different scents can affect you while you climb.
Metolius
Consistency: Mix between Chunky and Fine
Metolius is the brand that I used when I first started climbing. It is found in most climbing shops and outdoor recreation outlets. When you look at reviews for this chalk, the highest ratings usually mention something about how much chalk you get for the price. This isn't a surprise since it is usually cheaper than any other chalk brands. This is also probably why it is one of the most popular chalk brands for people starting climbing.
The chalk comes in different sizes and as loose chalk or as a chalk ball. Unlike most climbing chalk brands, however, the consistency is the same across all of its products, chunky.
Other Brands
There are hundreds of other brands that cover climbing, gymnastics and weightlifting climbing chalk, however here are a couple that isn't really big enough to have their own section, but popular enough to get a mention.
Pure Chalk is a brand that is leading the colored chalk industry. They focus on providing chalk that won't ruin the aesthetics of nature while providing the dryness needed to reach the top.
Psychi Chalk is a brand that is probably more popular in other sports than climbing but most of their reviews say the chalk is of great quality and great price. Plus they have cool branding.
Primo Chalk is expensive but according to most of their ratings, the cost is worth it. The brand boasts about it being better for your hands than regular chalk because it has essential oils, natural Epsom salt mixed in while also having the added benefit of a natural antibacterial.
Other Articles You May Like
Chalk FAQ: A Quick Guide For Rock Climbers
As you may have noticed, the above brands and products are all focusing on loose chalk. If you want to know more about the different types of chalk, how people use chalk, how people remove chalk, etc. be sure to check out this comprehensive guide/FAQ for climbing chalk.
Liquid Chalk Vs. Dry Chalk For Bouldering (Hint: Dry Chalk Is Better)
In case you are getting into bouldering and want to know whether or not you should buy liquid chalk or dry/loose chalk, here is an article that breaks down any consideration you may not have thought of to help you decide which is best for you