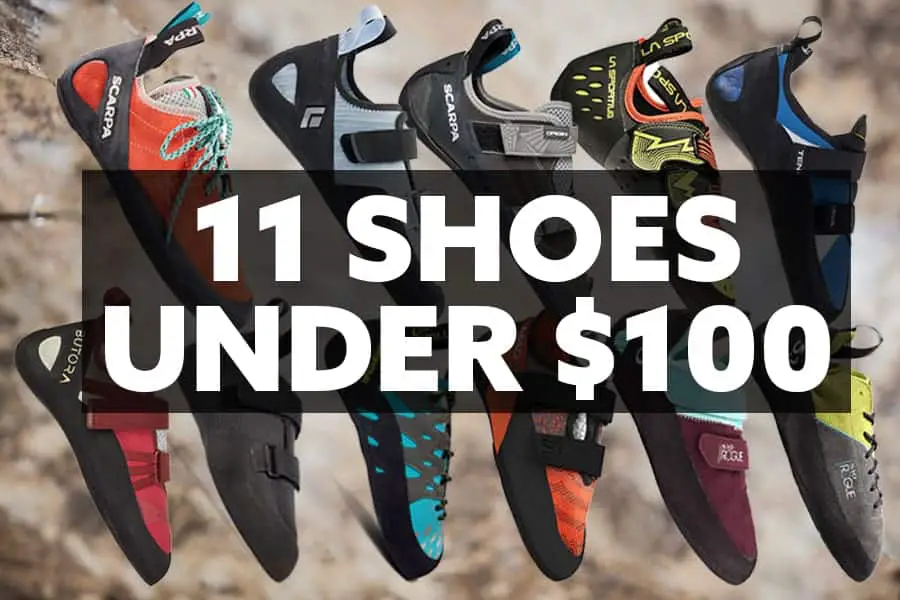 One of my best friends is finally making the jump to buy his own pair of shoes instead of renting them every time we go climbing together. He loves climbing but he wasn't sure if he was ready to invest in an expensive pair of climbing shoes while he is still figuring out what kind of climbing he likes and if he intends to keep climbing on a regular basis. 
Since I'm his favorite climbing friend, he asked me for recommendations for shoes he can get under $100.
I decided to do some research for him and have uploaded a summary of what I found for each pair of shoes here as well.
Best Shoes For All-Around Climbing – TENAYA Tanta Climbing Shoes – $99
Best Shoes For Rock Climbing -Scarpa Helix Climbing Shoes – $99
Best Shoes For Bouldering – Mad Rock Weaver Climbing Shoe – $99
Scarpa Helix Climbing Shoes
Unlike most of the shoes on this list, these shoes have laces. This makes them especially desirable if you like rope climbing. Not to mention it has a classic look to it, which is fun and it may make you stand-out a little at the crag or gym.
Something that makes it stand above the other climbing shoes on this list is that it has an amazing rubber relative to the other shoes under $100. 
The 3.5mm Vibram XS Edge rubber is similar to Scarpa's 4mm Vibram XS Edge rubber that is popular in many professional shoes.
The rubber won't last as long as the professional shoes, but it sure will stick similar to them and they might give you a slight advantage in edging compared to other beginner climbing shoes.
An all-time classic, the Helix was around for the first ascents on Moonlight Buttress and Astroman. With a flat profile and relatively symmetric shape, this shoe is extremely comfortable on multi-pitches. Its suede upper stretches slightly to conform to your foot, and the Flexan midsole gives ultra-thin support suitable for intermediates in the gym. The Helix's only updates include a padded tongue for comfier crack climbing and the Vibram XS Edge rubber sole that stays grippy for seasons.
Mad Rock Weaver Climbing Shoe
Mad Rock isn't the most popular brand among climbers, but they make amazing climbing shoes, especially for bouldering. A nice thing about the Weaver shoe is that it has the same Science Friction 3.0 rubber that they use in their professional shoes.
I wear their Mad Rock Dron LV shoes, which are with the same rubber and it is super sticky and provides a nice balance between sensitivity and support.
Plus, this shoe is moderate, which is an intermediate shoe and rare for shoes under $100. Most moderate shoes start at $140+.
In the instance of the Weaver Climbing Shoe, well, Mad Rock is calling it the comfiest shoe yet. That's in part due to the FloKnit upper that uses flexible knitting and heat-fused TPU to drastically increase breathable comfort. The Weaver also gains a comfortable profile due to the moderate curve that gently enhances performance for beginner and intermediate climbers.
La Sportiva Tarantulace Climbing Shoes
The Tarantulace climbing shoes are probably the most popular beginner shoes that I see in the rock climbing gym. This is likely because they have a wider toe so those new to climbing don't have to worry about pain in their toes while wearing these shoes.
They have a flat profile (Neutral) so you can wear them for a long period of time without worrying about your feet hurting. This is great for climbers at the gym that don't want to remove their shoes between routes during long climbing sessions.
They are made with leather and don't have a lining so the shoes will stretch up to a half a size larger once you full break into them. Because of this, you should consider getting a half-size smaller than what you would usually get. It will hurt more while you are breaking into your shoes, but then it will fit your toes really well once they fully stretch out.
If you don't get a half-size smaller, then you risk them being too big after they have been broken into.
TENAYA Tanta Climbing Shoes
There are very few climbing shoes under $100 that have a moderate downturn. This is impressive because moderate climbing shoes are a great way to get the benefits of many professional climbing shoes without the pain that comes from cramming your shoe into a highly asymmetrical/aggressive downturned toe.
If your feet fit well in these shoes, then I'd recommend giving them a chance since they can give you an advantage on overhang climbs and small toe holds that neutral/flat shoes can't.
Tenaya designed this shoe with a slight downturn for the moderate aggression that intermediate climbers want for harder projects. The combination of synthetic leather and breathable, odor-resistant cotton lining prevents the upper from stretching like your old leather pair of shoes. Not too soft or too stiff, the Tanta's midsole and rubber sole feel just right for smearing, edging, and heel hooking your way to the top.
Black Diamond Momentum Climbing Shoes
These shoes were my wive's first bouldering shoes and even now that she has upgraded to nicer and fancier climbing shoes, she still tells me how much she misses the Momentum climbing shoes.
Her and many other climbers feel like the momentum climbing shoes are super comfortable. They have a flat profile and they come in wide (men's) and narrow (women's) options so you can find a shoe that fits best for you.
While the Momentum climbing shoe was built with ultimate comfort in mind it excels in performance. With Engineered Knit Technology for exceptional breathability and innovative proprietary molded rubber, the Momentum is the perfect entry-level climbing shoe for all-day comfort at the gym or crag.
Black Diamond Momentum Vegan Climbing Shoes
Many climbers have expressed that these shoes are even more comfortable than the original Momentum climbing shoes. Plus, it has the added peace of mind for vegans as it is animal-product-free.
The Momentum Vegan climbing shoe is a continuation of Black Diamond's award-winning Momentum line, only this time it's completely vegan, meaning no animal products are used in the materials. Built with ultimate comfort in mind, the Momentum Vegan also excels in performance. With Engineered Knit Technology for exceptional breathability and innovative proprietary molded rubber, the Momentum Vegan is the perfect entry-level climbing shoe for all-day comfort at the gym or crag and those who prefer animal-free products. 
Scarpa Origin Climbing Shoes
These shoes are made specifically with comfort in mind. Climbers have reported that they feel just as they were marketed to feel "like a cacoon" all day. A nice thing about these shoes is that they are suede-leather so they will stretch, but reportedly only to the fit of your toes.
I have used shoes with a similar tongue to this shoe and I didn't like the extra space in the upper that the badding on the tongue provided, but some climbers love that so it is a personal preference.
The origin offers a lush leather upper, giving a feeling of a padded luxury that is rarely found in a shoe aimed at encouraging people to start climbing. The flat profile and relatively relaxed randing ease the climber's feet into a cocoon of comfort. The hook-and-loop closure keeps the foot snug and well positioned during use. The origin introduces scarpa's vision rubber, a proprietary compound that is both sticky and resilient to all the conditions that new climbers feet will experience.
La Sportiva Oxygym Climbing Shoes
These were the first pair of shoes that I purchased, and as the name entails, it is perfect for gym climbing. I loved the confidence that the fit gave me while I was climbing and they were comfortable enough that I could wear them while belaying or waiting for a route to become open at the bouldering gym. They are the shoes that helped me level-up at the beginning of my climbing adventure and I think fondly of them.
Of course, like all climbing shoes under $100, they don't last as long and the rubber started to peel away from the rest of the shoe. Despite this, I kept wearing them until the rubber no longer provided the support or stickiness I needed to keep using them.
I've used a few pairs since then and these are my new favorite bouldering shoes (sorry, they are over $100)
Synthetic material tends to stretch less than leather, so the fit you feel from the first time is not too different from the fit you'll get after several weeks of wear. Minimal asymmetry and a neutral profile make it easy to wear this grippy shoe for hours on end whether you're working on slabby under-vert or slightly over-vert problems. The round toe accommodates a variety of surfaces, be it a top-rope line at the gym or rock outside. The patented hook-and-loop closure system gives you two points of adjustment for a highly personal fit as well as the ability for rapid outfit changes. Slip-lasted construction takes away a bit of the stiffness so your wait for the wall isn't a foot-wrenching experience.
Butora Endeavor Moss (Wide Fit) Climbing Shoes
These shoes are a great option for climbers with average to wide feet. There is sock-like padding that makes it desirable for any climbers that find themselves shoving their feet in cracks while climbing.
Many climbers have noted that the shoes fit differently than most climbing shoes so it is worth reviewing the sizing chart from Butora for recommendations on what size to purchase.
Thanks to the Endeavor's slightly asymmetrical toe shape, this shoe has a natural feel and is equipped with a triple fork webbing construction that provides a unique and personalized fit. Additionally, the shoe features a hybrid upper that consists of synthetic microfiber and natural leather that provide shape and breathability while a two-piece tongue encourages optimal ventilation combined with the Poron memory foam that takes pressure away from the straps. 
Five Ten Rogue Lace Climbing Shoes
Many climbers that use this shoe suggest that it is a great shoe for someone that is looking for a more intermediate shoe compared to most shoes in the same price range. It has a moderate downturn, which is great for any small toe holds and it is a lace-up so you can customize the fit around your fit by each section of the foot.
The Five Ten Rogue Lace Climbing Shoe won't break the bank, but that doesn't mean that Five Ten held back on technological advances. Built on the same last that Five Ten uses for its Stonelands shoe, the Rogue has a natural, relaxed foot position so you can learn the specifics of toeing into jibs without the discomfort of upper-end climbing footwear. The upper material is made with split-grain leather to comfortably conform to your foot as you climb, and it has a uniform give and natural breathability for even more comfort. With its lace-up closure, you'll have customized tension around your foot so everything is nice and snug. 
Five Ten Rogue VCS Synthetic Climbing Shoes
One of the best things about this shoe is that it has the 4.2mm Stealth® C4™ ultra-sticky rubber outsoles grip nearly every surface and provide good edging for smearing and climbing in the gym. It is similar to the rubber that they use on the professional shoes so it is great value for the price.
Five Ten designed its Rogue VCS Climbing Shoe for beginning climbers who want to transfer what they've learned on plastic to outdoor rock. Just because it's inexpensive doesn't mean it's cheap on performance. Five Ten used the same last as its Stonelands shoe for a natural, relaxed fit that beginners crave while they learn how to step up on a jib or smear over slabs. The Rogue features a breathable split-grain leather upper material that will conform to your foot while you climb for a glove-like fit, but be weary on sizing because this shoe can stretch up to a full size over time. Its hook-and-loop closure allows you to put this shoe on quickly and take it off easily.
Disclaimer:
My first pair of climbing shoes that I purchased was the La Sportiva Women's Oxygym shoes. As the name entails, they are great for climbing in the gym and they gave me the confidence I needed to level-up my climbing.
However, just like all of these shoes that are under $100, the rubber is cheaper than with climbing shoes that are even $40-$60 more so they don't last as long. It was only two months in when I started to notice the rubber separate from the rest of my shoe.
After three months I realized that my shoes weren't giving me the support or stickiness that I wanted from a climbing shoe so I had to upgrade. With my new shoes, I'm getting 6-months – 1 year with extensive use (3-4 times per week for 2-3 hours in the gym). Almost 4xs as much use for less than $60 more.
With that being said, I'd recommend spending a little bit more for a shoe that is going to give you more support, stick to holds better and last longer.