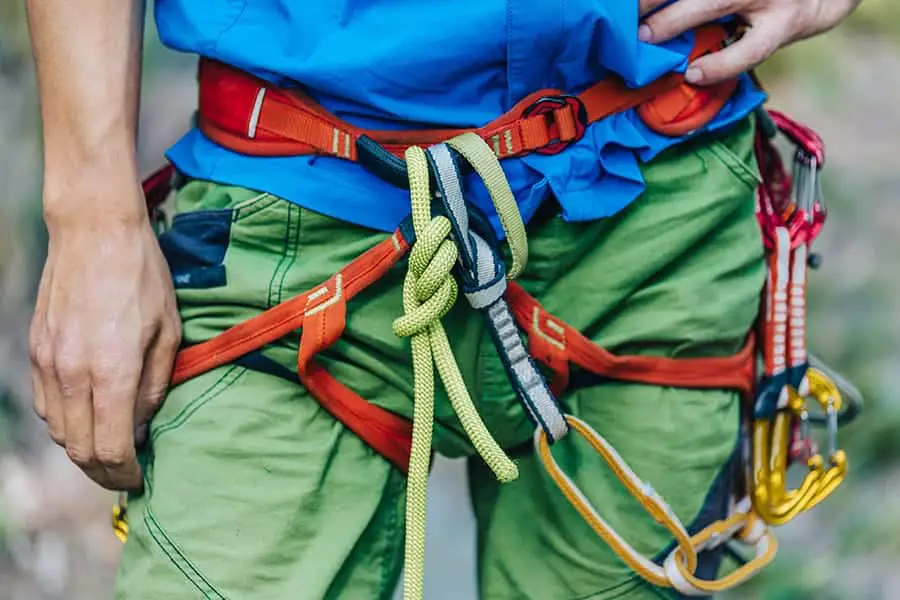 My friend, whom I recently got hooked on climbing, told me that they are looking for a new harness, but wanted tips on how it should fit so they can get the right size. Since it's been years since I've bought a harness (I take care of my harness), I decided to do some research to help her.
How should your climbing harness fit? Your harness should fit above your hip tight enough that it won't slide down but loose enough to avoid hot spots or pressure points. The leg loops should be tight enough that you can only fit up-to four fingers (flat) between the loop and your leg but it should be loose enough for full movement.
With so many different brands, hip padding and loop arrangements, it can be difficult to decide what size is best for you. Of course, there are general guidelines and sizing based on brands that can help with that.
Harness Fit Guidelines
There are multiple parts of the harness that you should consider when fitting a harness to your body and for your needs. The following are some general guidelines that will help you find the right size harness for you.
Waistband Fitting
The first step in finding the right size waistband (also known as waist belt) is to identify the circumference of your waist. 
You can use the circumference of your waist to identify what size, depending on the brand that is the best fit for you (see harness sizing table below)
Put on the harness and place the waistband above your hip
Tighten the waistband so that it is tight enough to prevent it from sliding down but loose enough that it doesn't cause pressure points or hot spots
Leg Loop Fitting
The leg loops are less useful for keeping you from falling out of your harness and more useful for comfort and weight distribution so that you don't fall upside down. With that being the case, you can fit your leg loops as tight as you like for your own comfort.
Measure your leg circumference
Ensure that the size of your harness includes your leg circumference in the sizing range (see harness sizing table below)
Put on the harness and adjust the waistband as needed (see above)
Tighten the leg loops until you can only fit four fingers between you and the leg loop.
Ensure that you still have full movement in your legs. If you don't have full movement, identify if it is the leg loop tightness or the "rise" straps that are preventing you from moving. If it is your leg loops, loosen them as needed.
Rise Strap Fitting
Most harnesses have fixed rise straps, which are the straps at the back of the harness that connect the legs to the back of the harness. 
If they are adjustable, then you can adjust the rise straps for the following. If they are a fixed length, then consider trying a different harness that has a rise strap that suits your needs.
After adjusting your waist and leg loops to the appropriate tightness  (see above). 
 Move your legs around to see if you have a full range of motion.
If you have limited range of motion, loosen the rise straps (or find a harness with longer rise straps)
Test the rise straps while hanging in the harness (many climbing outlets have climbing walls or rope to test hanging in the harness). 
If while hanging in the harness, you have to use core strength to keep your body upright and the harness doesn't force you into a sitting position, tighten/loosen the rise strap or find a harness with a smaller/bigger rise straps until you find a harness that holds you in a sitting position.
Where What You Intend To Wear While Climbing
To make sure you will fit in your harness, it is ideal to try on the harness with whatever you intend to wear while climbing. For example, if you are ice climbing, make sure that you wear all of the layers that you intend to wear while climbing.
If you intend to climb in a gym with pants and a t'shirt, be sure to test the harness while wearing that.
The Hang Test
While hanging in a harness, you shouldn't be able to fit more than a fist between the harness and your body. If you can, consider a smaller harness or adjusting the waistband to be tighter.
Many climbing outlets and outdoor outlets have a climbing wall or rope that you can test your harness on before purchasing. If possible 
Hanging in the harness is a great way to see if you have the right fit, the right padding and if you can reach all of the gear you need on the loops.
Harness Sizing For Different Brands
Each brand of harness has different sizing and even sizing for different models so here are the most popular harness brands and sizing
Here is a harness size chart by brand:
| | | | | |
| --- | --- | --- | --- | --- |
| Size | Waist | Thigh/Leg | Brand | Model |
| XS | 24 – 28 | 18.5 – 20.9 | Mammut – Women | NA |
| XS | 25 – 27 | 20.5 – 22 | ARC'TERYX – Women | NA |
| XS | 25.5 – 27.5 | 21.5 – 23 | ARC'TERYX – Women C-QUENCE | NA |
| XS | 25.6-27.8 | 18.1-22 | Petzl | AQUILA, LUNA, |
| XS | 25.6-27.9 | 18.9-20.9 | Petzl | HIRUNDOS, SELENA |
| XS | 26-29 | 18-20 | Black Diamond – Women | NA |
| XS | 27.5 – 29.5 | 20.5 – 22 | ARC'TERYX – Unisex | NA |
| XS | 28 – 30 | 20.5 – 23 | ARC'TERYX – Men | NA |
| XS | 28 – 30 | 21 – 22 | ARC'TERYX – Men C-QUENCE | NA |
| S | 26.4 – 30.3 | 19.3 – 22.4 | Mammut – Men | NA |
| S | 26.4 – 30.3 | 20 – 22.4 | Mammut – Women | NA |
| S | 26.4-30.3 | 18.9-20.9 | Petzl | SITTA |
| S | 27 – 29 | 21.5 – 23 | ARC'TERYX – Women | NA |
| S | 27-30 | 19-21 | Black Diamond – Men | NA |
| S | 27.5 – 29.5 | 23 – 24 | ARC'TERYX – Women C-QUENCE | |
| S | 27.8-30.3 | 18.9-22.8 | Petzl | SELENA, AQUILA |
| S | 28-30 | 18.5-22.4 | Petzl | ADJAMA |
| S | 28-30.3 | 18.9-20.9 | Petzl | SAMA, HIRUNDOS |
| S | 28-30.3 | 20-24 | Petzl | LUNA, |
| S | 28-31 | 20-22 | Black Diamond – Women | NA |
| S | 29.5 – 32 | 22 – 23.5 | ARC'TERYX – Unisex | NA |
| S | 30 – 32 | 21.5 – 23 | ARC'TERYX – Men | NA |
| S | 30 – 32 | 22 – 23 | ARC'TERYX – Men C-QUENCE | NA |
| S/M | 25.2-33.8 | 21.6-26.4 | Petzl | TOUR |
| S/M | 25.2-33.9 | 21.6-26.4 | Petzl | ALTITUDE |
| M | 28.7 – 33.5 | 20.9 – 24 | Mammut – Men | NA |
| M | 28.7 – 33.5 | 21.7 – 24 | Mammut – Women | NA |
| M | 29 – 32 | 23 – 24.5 | ARC'TERYX – Women | NA |
| M | 29.5 – 31.5 | 24 – 25 | ARC'TERYX – Women C-QUENCE | NA |
| M | 30-33 | 21-23 | Black Diamond – Men | NA |
| M | 30-33 | 20-24 | Petzl | ADJAMA, |
| M | 30.3-33 | 20.5-24.4 | Petzl | AQUILA, SITTA |
| M | 30.3-33 | 20.5-22.5 | Petzl | HIRUNDOS |
| M | 30.3-33 | 21.3-25.2 | Petzl | LUNA |
| M | 30.3-33 | 21.6-23.6 | Petzl | SELENA |
| M | 30.3-33.1 | 20.4-22.5 | Petzl | SAMA |
| M | 32 – 34 | 23 – 24.5 | ARC'TERYX – Men C-QUENCE | NA |
| M | 32 – 34.5 | 23.5 – 25 | ARC'TERYX – Unisex | NA |
| M | 32 – 34.5 | 23 – 24. | ARC'TERYX – Men | NA |
| M | 33-36 | 22-24 | Black Diamond – Women | NA |
| M/L | 29.1-37.8 | 23.6-28.7 | Petzl | ALTITUDE, TOUR |
| L | 30.3-33 | 21.6-23.6 | Petzl | SELENA |
| L | 31.5 – 34.5 | 25 – 26.5 | ARC'TERYX – Women C-QUENCE | NA |
| L | 31.5 – 36.2 | 22.4 – 25.6 | Mammut – Men | NA |
| L | 31.5 – 36.2 | 23.2 – 25.6 | Mammut – Women | NA |
| L | 32.5 – 36 | 24.5 – 26 | ARC'TERYX – Women | NA |
| L | 33-36 | 23-25 | Black Diamond – Men | NA |
| L | 33-36.2 | 21.3-25.2 | Petzl | ADJAMA |
| L | 33-36.2 | 21.6-25.6 | Petzl | AQUILA |
| L | 33-36.2 | 21.6-23.6 | Petzl | HIRUNDOS, SITTA |
| L | 33-36.2 | 22-26 | Petzl | LUNA |
| L | 33.1-36.2 | 21.6-23.6 | Petzl | SAMA |
| L | 34 – 37.5 | 24.5 – 26 | ARC'TERYX – Men C-QUENCE | NA |
| L | 34.5 – 38 | 25 – 26.5 | ARC'TERYX – Unisex | NA |
| L | 35 – 38.5 | 24.5 – 26 | ARC'TERYX – Men | NA |
| L | 36-39 | 24-26 | Black Diamond – Women | NA |
| L/XL | 33-42.5 | 26-31.1 | Petzl | ALTITUDE, TOUR |
| XL | 33.9 – 39.4 | 23.6 – 26.7 | Mammut – Men | NA |
| XL | 34.5 – 38.5 | 26.5 – 29 | ARC'TERYX – Women C-QUENCE | NA |
| XL | 36 – 39.5 | 26.5 – 28 | ARC'TERYX – Women | NA |
| XL | 36-39 | 25-27 | Black Diamond – Men | NA |
| XL | 36.2-39.3 | 22-26 | Petzl | ADJAMA |
| XL | 36.2-39.4 | 22.4-26.4 | Petzl | AQUILA |
| XL | 36.2-39.4 | 22.5-24.4 | Petzl | HIRUNDOS |
| XL | 36.2-43 | 22.4-24.4 | Petzl | SAMA |
| XL | 37.5 – 41 | 26 – 28 | ARC'TERYX – Men C-QUENCE | NA |
| XL | 38 – 41 | 25.5 – 28 | ARC'TERYX – Unisex | NA |
| XL | 39 – 42 | 26.5 – 28 | ARC'TERYX – Men | NA |
| XXL | 33 – 42.5 | 24.4 – 28.3 | Mammut – Men | NA |